As laptop manufacturers strive to make everything smaller and lighter, they've become more brutal when it comes to the ports and plugs they incorporate. My old laptops featured HDMI and network connectors, SD card readers and microphone sockets, and enough USB ports to accommodate all of the devices I could ever need. It's not uncommon to find only a few of USB-C ports these days, and you'll need to use one of them for charging as well.
Sure, it helps you lose weight and keep your size down, but it comes at the sacrifice of, well, doing things. Do you need to transfer files to a flash drive or remove images from your camera's memory card? Want to physically connect to a network or printer, or plug into a TV or monitor? Unless you have a USB hub, it's time to dive into dongle hell.
These devices come in a variety of shapes and sizes, but the essential concept is the same: they allow you to effortlessly plug a variety of peripherals into computers that lack the necessary ports. One of these, the Aukey Unity Link PD II USB-C hub, is the subject of today's review.
Design and Specifications
Aukey is a Chinese electronics accessories company that tends to slip under the radar. For years, the firm has been producing useful tiny gadgets, but it lacks the brand recognition of competitors like Anker. The USB hub came in a little package, and the item inside was even smaller, fitting comfortably in my palm.
It's not difficult to fit this hub into your bag if you want to take it to the coffee shop or on a trip. When you do, you'll find a soft carrying pouch to protect your device from scratches and tiny dents.
Dimensions: 4.0 x 2.2 x 0.6″ (10.2 x 5.7 x 1.5cm)
Weight: 3.8oz (109g)
It's a simple black rectangle with a short USB-C cable on one end, a power indicator on top, and a handful of plugs on both long edges. Among the sockets are:
1 x USB-C PD (100W)
3 x USB-A (4.5W total)
1 x RJ45 Ethernet (10/100/1000Mbps)
1 x HDMI (up to 4k@30Hz)
1 x SD (2TB max)
1 x microSD (2TB max)
That's a good selection for a little device, and aside from one more USB-C port, there's nothing missing from this hub that I'd use on a regular basis. However, there are a few things to keep in mind right away. The USB-A ports are clearly designed for plugging in peripherals rather than charging your devices, with a maximum combined output of 4.5W (5V @ 0.9A) and a recommendation to that effect in the handbook.
Because you can't utilise both the SD and microSD slots at the same time, they must share a controller. If you want to utilise this hub to transfer files between two memory cards, first copy them to your laptop or a USB drive. If your laptop has a USB-C wall charger, the instructions recommend plugging it into the hub if you're attaching many devices or something that requires more power, such as an external hard drive.
Finally, data transfer is not supported by the USB-C connector. This means you can't use it to connect to an external monitor or plug in storage devices. It's all about the power. Now it's time to put your skills to the test.
Real-World Testing
My primary computer is a two-year-old Lenovo Yoga 920, which I used to conduct all of my tests on. On one side, it has a pair of USB-C ports, so I disconnected one of them, connected my power line to the hub, then plugged the hub into the newly-vacated socket. Easy. At least, it's simple if you don't use a laptop stand. Because the hub's cable is just about six inches (15cm) long, you'll need to keep your laptop on your desk if you don't want the hub flapping around in the breeze when it's attached.
It's a delicate balancing act, because having a lot of additional cable is inconvenient when you don't need it, but a little more length would have been beneficial. If you're in the same boat, a USB-C extender cable can be purchased as needed. When the hub was connected, the power light turned green, and I was ready to go.
To begin, I tested each USB-A port individually and in combination with a variety of peripherals, including USB sticks, Wi-Fi range extenders, a portable hard drive, and whatever else I could find. They all functioned as predicted, with the laptop identifying them as if they were connected directly. Copying files to the storage devices went well, and moving 85GB of photos onto the hard disc took just under half an hour.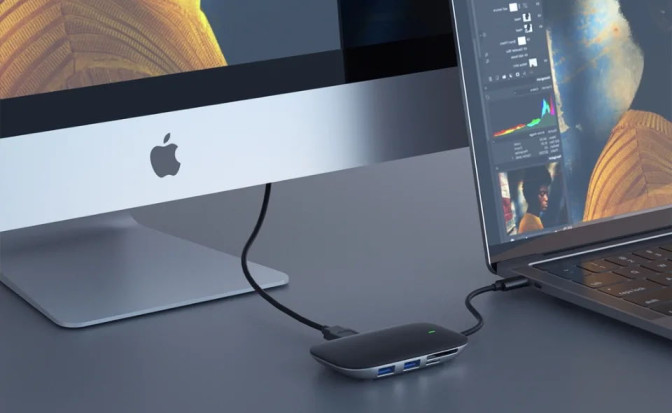 The read/write speeds on the drive were identical to when it was hooked into my laptop's USB port. I went on to the card readers after leaving everything linked. Again, the hub had no trouble identifying either the SD or microSD card, though not both at the same time, as per the instructions. It worked as expected when I moved files around.
The laptop's display was quickly reflected on the screen after connecting the HDMI wire from a 4K smart TV. I don't have the tools to examine display changes in great detail, but watching a Netflix movie on the laptop and seeing it on the TV appeared fairly similar to my eyes.
I attached an Ethernet wire to the hub after putting my laptop in flight mode. My laptop immediately recognised a new network card, obtained an IP address, and connected without prompting. I had no trouble viewing the web or downloading files as quickly as my internet connection allowed, with speed tests slightly faster than on Wi-Fi.
Although the instructions state that charging should not be done using USB-A connectors, I was determined to give it a shot. I tried a number of phones and other accessories, but I couldn't get more than approximately 2W (5v @ 0.4amps) to any of them. That's sufficient for older USB accessories such as headphones, but phones and tablets would take an eternity to charge, assuming they were charged at all.
I disconnected the laptop charging cable from the hub for the final tests. I first attached a USB-C monitor to make sure the USB-C port didn't permit data transfer: nothing appeared on the screen, as expected. The portable hard drive was then reconnected, and the speed tests were repeated.
Despite the manual's warnings regarding the necessity for external power, it performed perfectly, with no slowdown in read or write rates. Last but not least, I attempted to charge my phone using a USB-C port, which performed significantly better than USB-A ports. It charged at almost exactly the same rate as a common wall charger at little under 6W.
The Verdict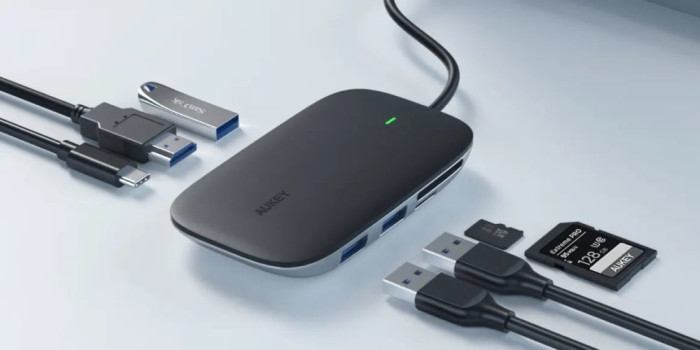 Overall, the Aukey Link PD Pro is a fantastic value for money device. It offers the ideal combination of functionality for most individuals, and it's the right size and weight to be handy both inside and outside the house. All of the ports and sockets function as they should, and in some cases, even better. It does, however, have some restrictions.
The USB-A ports' slow charging speeds are perplexing for a 100W hub like this, and it means it isn't nearly the "do everything" gadget it could be. While most people won't need simultaneous access to the SD and microSD slots, it'd be nice to have, as would a little longer cord and an extra USB-C connector. Overall, this hub gets the majority of things right at a reasonable price. If your laptop is lacking a few critical ports and you don't want to deal with a slew of dongles and accessories, the Aukey Unity Link PD II USB-C hub is a great option. Recommended.