In the last year or so, Anker has produced a variety of wall chargers, all of which have discreetly reduced their size and weight while boosting their power output. They've made tiny phone chargers, ones with a half-dozen or more USB ports, and devices with enough capacity to charge any laptop without overheating.
Now, the company has turned its attention to chargers that can handle a little bit of everything. Charging a laptop, phone, or tablet from a charger tiny enough to carry in your pocket used to be a pipe dream, but that is no longer the case, according to what arrived in my mailbox a few weeks ago.
Anker uses the same name for two separate products, which is a little confusing.
There's a single-port 30W USB-C charger called the Powerport Atom III Slim, as well as a 65W four-port version. I'm now reviewing the latter.
Features and Specifications
The Powerport Atom III Slim 4-Port is a little gadget, as its name suggests. It's compact and light enough to fit in your back pocket, measuring 3.5 x 3.4 x 0.8′′ (9 x 8.7 x 2cm) and weighing 4.8 oz (136g). I'm not sure why you'd want to do that, but if the mood strikes you, it's a possibility. The power cord, which is five feet long and connects into a wall socket, is not included in the dimensions and weight.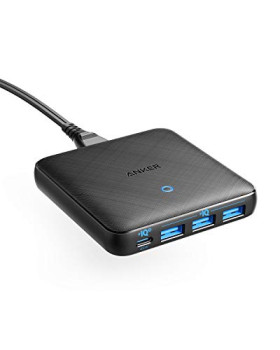 It has a velcro strap to keep it tidy, but if you're travelling and need a shorter version, any regular cable with a figure-8 plug would suffice. The only thing on the top of the gadget is a small logo and a faint circle that lights up blue when the power is connected. The wall cable is plugged in the back, and all of the ports are located on the front: a USB-C 45W PD port and three USB-A ports that share 20W of power.
Any of the USB-A connectors may deliver a maximum of 12W (5v x 2.4a). Except for a velcro strip to lock the charger firmly in place on (or under) your desk if you don't plan to move it often, there's not much else in the box.
Real-World Testing
I put the charger through a number of stress tests over the course of a few days, and then used it as my daily charger for three weeks to ensure its reliability.
Stress Testing
To begin, I repeatedly drained a laptop and two smartphones to 50% battery power, then charged them separately using both their regular charger and the Powerport III. I tried the USB-C port and one of the USB-A ports individually on the phones.
Lenovo Yoga 920
Factory Charger
PowerPort III Slim (USB-C)
As you can see, the Powerport's 45W maximum output can't match that of the 65W factory charger that came with the laptop.
Everyday Testing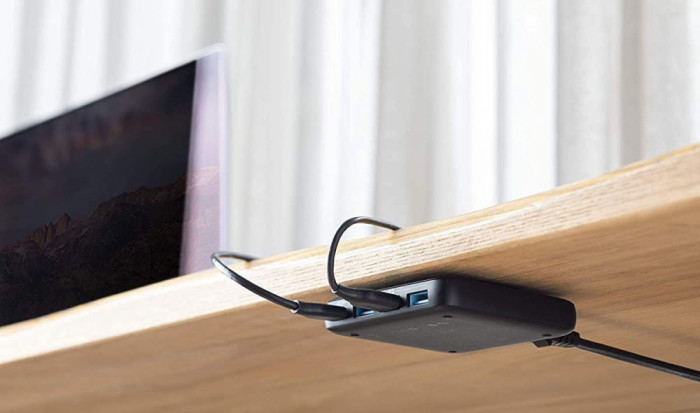 Unlike the stress testing, which took several hours and involved a variety of measuring instruments, the ordinary testing required me to do nothing. I already had a number of charging cables for my laptop, phone, headphones, and Fitbit on my desk, so I just plugged them all into the Powerport III.
It was the only charger I used for around three weeks. The laptop and phone were always connected, while the micro-USB and Fitbit cords were only used every few days. Everything went off without a hitch, as you might anticipate.
My laptop, like my phone, was always completely charged when I removed it from the charger. There were no disconnections or slowdowns in charging speed that I noticed.
Basically, it did exactly what it said it would.
Verdict
In conclusion, I really loved the Anker Powerport Atom III. It's surprising that you can pack this much power and versatility into such a little charger, especially because you're sacrificing so little in the process. There's no reason you couldn't use it at home as a daily charger for your laptop, phone, or tablet, then throw it in your luggage when you go to a cafe or the airport.
Throughout my tests, it remained rock-solid, and while it warmed up under heavy strain, it never became excessively hot. While many laptops will charge a little slower than usual, the difference in real-world performance is likely to be smaller than the specifications show.
The simplicity of having a single charger that can do everything will be well worth the wait for many people, especially when they're on the go. With the Anker Powerport Atom III Slim 4-port charger, Anker has created a winner that is both affordable and useful. Recommended.