On the road, public Wi-Fi isn't ideal for staying connected. Getting online might be difficult due to poor signal, slow speeds, and poor hotel networks, and that's before you consider the lack of security.
Take your connection with you wherever you go with a mobile hotspot if you require reliable, consistent internet while travelling, especially if you have a locked smartphone or are travelling as a couple or group.
What Is Mi-Fi, Anyway?
Portable Wi-Fi routers, pocket Wi-Fi, mobile Wi-Fi devices, portable hotspots, Mi-Fis, and other terms are used to describe mobile hotspots. They all work in the same way, regardless of what you call them.
The device, which is typically the size of a deck of cards, exchanges cellular data via its own private wireless network. You link all of your other gadgets to that private Wi-Fi network to get online.
For international travel, many companies rent or sell prepaid hotspot devices like this, where you pay in advance for a set amount of data or time. They're convenient, but even though they're usually less expensive than roaming, the cost can add up quickly on longer travels.
However, just like smartphones, unlocked versions are available that let you to use a local SIM card to take advantage of low data rates everywhere in the globe. With one of these, you'll pay less each day (sometimes significantly less) in return for needing to find a prepaid SIM when you arrive in a nation.
In 2021, these are the greatest unlocked mobile hotspots for travel.
Note: Before purchasing any mobile hotspot, be sure to verify which locations it supports. Not every gadget, like smartphones, can support the various cellular frequencies used in each nation. In some regions of the world, this can mean slower speeds or no data at all.
1. Best Unlocked Mobile Hotspot: Netgear Nighthawk M1
In the United States, many, if not all, global mobile hotspots perform unexpectedly poorly. There are various reasons for this, but it's a major issue for visitors to the United States or residents searching for a mobile hotspot that isn't tied to a specific cell provider.
The Nighthawk M1 from Netgear is one of the few models with decent LTE coverage in the United States and most other countries, with blistering peak speeds and a slew of extra capabilities that provide genuine value when you're on the go.
The M1 is a big mobile hotspot, but it's compact and light enough to put in a purse, handbag, or daypack. The added size and weight has a variety of advantages. The first is the amount of time spent away from a power source, with Netgear claiming that the 5000mAh battery can last up to 11 hours.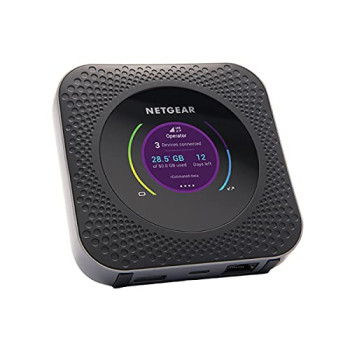 If you require even more time between charges, you can purchase a spare. The M1 can share data across a 2.4 or 5GHz Wi-Fi network, allowing you to escape congested airwaves in densely populated areas. The M1 may also be used as a media server, streaming shows from a USB stick, hard disc, or microSD card over Wi-Fi.
If needed, you may also use the USB port to charge your phone from the hotspot's battery. The Nighthawk M1 is practically unrivalled in portable hotspots when it comes to download speed. Support for a variety of perplexing networking jargon, such as LTE Cat16 and 4x MIMO, translates to download speeds of up to 1Gbps and upload speeds of up to 150Mbps.
Due to limited carrier support and regular network congestion, you're unlikely to see such speeds in the real world, but until 5G coverage is widespread and affordable, this is as good as it gets for now. The M1 can connect up to 20 devices at once, so you won't have any trouble sharing quicker speeds with a group of people, even if they all have several devices.
In short, this is a high-quality gadget that offers worldwide coverage, fast speeds, long battery life, and valuable extras while being small and light enough for all types of travel. As a result, it's our top selection for an unlocked portable hotspot in 2021.
Pros
Exceptional speeds
Long-lasting battery, with a spare available
Global coverage, including LTE in the United States
Cons
2. Best for Flexibility: GlocalMe G4
With a great feature, the GlocalMe G4 is one of the best mobile hotspots we've seen.
Depending on your preferences, you can utilise the device's built-in data plans or a local SIM to save money. We previously wrote a comprehensive evaluation of the predecessor G3.
Despite a few small flaws, we found it to be the best mobile Wi-Fi hotspot for foreign travel in general, particularly if you travel frequently. The most recent model is essentially a thinner, lighter version of the previous generation with all of the same features. It defaults to 4G/LTE networks, but can switch to 3G or 2G if necessary.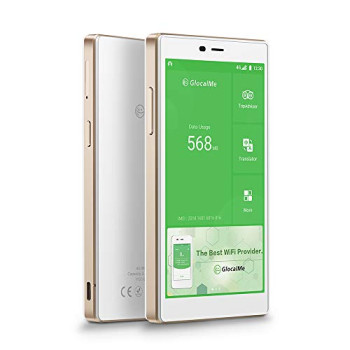 As a result, you'll enjoy superb LTE speeds of up to 150Mbps download and 50Mbps upload. Web browsing, navigation, and even streaming video should all operate OK with the maximum of five devices connected at once. The gadget comes with slightly over 1GB of global data, which you can use in any of the 100+ approved countries via the integrated "cloud SIM."
Once it's completed, you can purchase local or regional packages as needed, typically at a fairly low cost. However, "unlimited" data plans are capped at 2GB beyond which speeds decline dramatically. Local prepaid SIM cards can be inserted into any or both of the unlocked nano slots, and you can swap back and forth between them and the cloud SIM at any time.
The tablet boasts a straightforward touchscreen interface that takes little time to get used to. The battery life is excellent, with up to 15 hours of continuous use possible. The USB-C port on the G4 may also be used to charge other devices, which is a great addition.
Pros
Good global coverage and speeds
Very flexible data options
Good battery life
Simple touchscreen interface
Nothing else quite like it
Cons
Unlimited cloud data plans have speed caps
Small number of simultaneous connections
3. Best Value Mobile Hotspot: Huawei E5577
The Huawei E5577 eliminates the majority of the drawbacks of other cheap and ugly hotspots while remaining economical. You'll receive 4G/LTE support throughout much of the world and at least 3G in the Americas for your extra bucks. As a result, it's a good international pocket Wi-Fi option for budget travellers.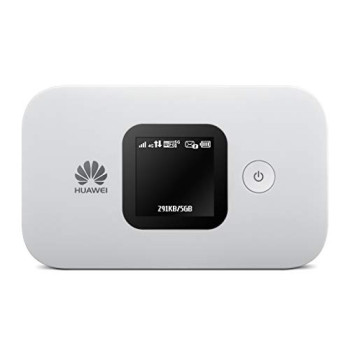 In regions where 4G/LTE service is available, you can connect many phones or tablets to the E5577 without experiencing significant lag. The interface isn't as sleek as the touchscreen-based version found on more costly models, but you'll only need it to install a new SIM card.
The hotspot is small and light enough to fit in your pocket, but that slimness comes at a cost: no room for a large battery. Expect it to last no more than six hours on a single charge, and possibly less if you have multiple gadgets connected or are in a low-signal location.
Overall, the E5577 is a good choice for travellers looking for a simple, easy-to-use Mi-Fi gadget that works in most countries and isn't too expensive. We'd prefer longer battery life, but that's the only significant issue, and it's simple enough to solve with a portable charger if necessary.
Pros
Good global coverage and speeds
Reasonable price
Small and lightweight
Cons
Short battery life
Limited 4G/LTE support in the Americas
4. Best for Fast Downloads on a Budget: Huawei E5787
The Huawei E5787's finest feature is its speed. With LTE Cat6 capability, download speeds of up to 300Mbps are possible, making this one of the fastest mobile hotspots available without breaking the bank. You can also connect up to ten devices at simultaneously, allowing everyone to benefit from the increased bandwidth.
The E5787's slim form makes it easy to slip into a pocket. A modern touchscreen interface makes it simple to access key information at a glance and adjust sophisticated settings as needed. Many regions of the world (though not necessarily the Americas) will have 4G/LTE coverage, while the rest of the world will have 2G or 3G service.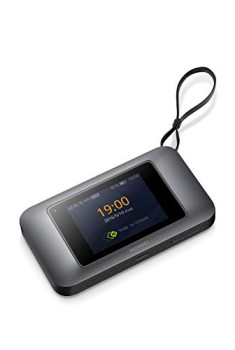 You'll love being able to switch the hotspot's Wi-Fi network between 2.4Ghz and 5Ghz for a better connection if you're in an urban region with congested airwaves. You'll receive up to 10 hours of battery life despite the tiny size and higher power requirements of high-speed data.
If you're in a pinch, you can even use the hotspot to charge your phone or other USB devices. However, as amazing as the smartphone is, recent price decreases on the Huawei E5885 (below) have often resulted in it selling for a similar price. The premium features and longer battery life may make it a better alternative if you don't mind the extra weight.
Pros
Fast max download speeds
Good global coverage
Dual Wi-Fi bands
Slick touchscreen interface
Small and lightweight
Cons
Relatively expensive
Limited LTE support in the Americas
Small size means shorter battery life
5. Best for Extra Features: Huawei E5885
Many Mi-Fi devices, particularly the less expensive variants, have small batteries that die after a few hours of continuous operation. The Huawei E5885, on the other hand, should last one complete day or more and comes with a slew of other premium features to justify its higher price. This, like the E5787, is one of the quickest mobile hotspots available.
In many parts of the world, LTE Cat6 support provides download speeds of up to 300Mbps, while 3G/HSPA+ coverage is available everywhere. You can connect up to 32 devices at once, so if you want to provide Internet access to your complete tour group, that's no problem.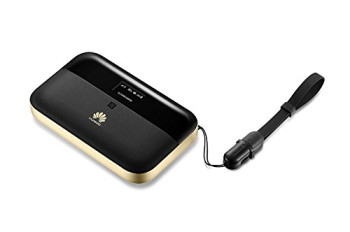 Because of the extra features of the hotspot, you may be able to leave some of your other travel gear at home. You can use some of the 25-hour battery life to power other devices via the USB port instead of carrying a portable charger. The thin hand strap also serves as a micro-USB cable, which is convenient.
The E5885 also eliminates the need for a dedicated Wi-Fi range extender by acting as a mobile router, allowing you to share an existing wired or wireless connection over Wi-Fi. Both 2.4GHz and 5GHz frequencies are supported, which helps improve signal quality in congested metropolitan areas. It has a faux-leather cover that resists spills and stains, making it more robust than most other portable hotspots.
A rubber cover protects all of the ports while they aren't in use, helping to keep liquid and dust out. This is a high-end device with a high-end price tag. However, given the premium features and the flexibility to leave other gadgets at home as a result, many travellers will find the E5885 to be a decent value for money.
Pros
Fast max download speeds
Good global coverage
Doubles as a portable battery and Wi-Fi extender
Some dust and liquid protection
Great battery life
Cons
Relatively expensive
Limited LTE support in the Americas