What a difference a year makes in the world of low-cost cellphones. We didn't bother recommending the best inexpensive cellphones for travel until a few years ago, mainly because there weren't any good cheap smartphones for anyone. All of the low-cost phones were poorly constructed, with low specifications and short battery life. You'd nearly be better off without a phone than relying on one while driving.
It's a different storey in 2021, though. For a relatively low price, Asian manufacturers, in particular, have been manufacturing phones with most of the functionality travellers (and most other people) want. When you're on a budget, poor screens, slow processors, and bad cameras are no longer the only options. These phones aren't quite as excellent as high-end models that cost three times as much, but for many people, they'll suffice.
For our purposes, a cheap smartphone is one that costs less than $300/£300/€300, is unlocked, and can be used with local SIM cards everywhere in the world. Some of these suggestions come close to that figure, while others are significantly less. Even the cheapest iPhone exceeds that limit, therefore they all run some version of Android.
1. Best Budget Smartphone: OnePlus Nord N10 5G
We've always enjoyed OnePlus phones because they're known for providing excellent performance for a low price. However, the price of the flagship model increased year after year, allowing room for competitors at the low end of the market. With the Nord series, the firm is returning to its roots, offering a low-cost alternative to the premium versions that tries to preserve most of the nice features while lowering the price.
The Nord N10 5G is currently the greatest budget smartphone on the market, and our pick for the best budget smartphone right now. The phone's most advertised feature, as the name suggests, is its 5G capability. Because OnePlus sells multiple versions of the phone for different markets, the North American model will only support 5G in the United States, but the European/UK variant will also support 5G. LTE support, on the other hand, is far more widespread.
It's a sleek phone that's huge but not too hefty, and it's available in a gorgeous midnight blue hue. Its lightness comes from the use of a polycarbonate frame and back, which is comfortable to handle but less robust than metal models. When it comes to durability, there's no official water resistance, so don't put it in the toilet. Despite the large 6.5′′ LCD screen, the phone is powered by a large 4300mAh battery that may last over a day of moderate use.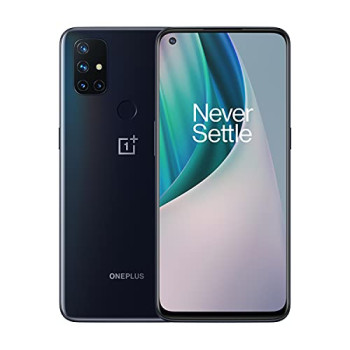 It's bright, vivid, and easy to view even in direct sunshine, despite not being an OLED display. The accompanying USB C 30W Warp charger claims "a day's power in half an hour." OnePlus phones have always had some of the fastest charging you'll find in a smartphone, and this is no exception. That means moving from zero to two-thirds charge in 30 minutes in this case. However, there is no wireless charging.
Performance is decent for a cheap phone, thanks to 6GB of RAM and a Snapdragon 690 CPU. You're unlikely to notice slowdowns or delays in daily use unless you play a lot of demanding, high-action games. The 90Hz refresh rate is beneficial, and it's encouraging to see it on low-cost phones. The cameras, as with other OnePlus phones and pretty much all inexpensive phones in general, fall short.
In daylight, you'll probably get some okay, if not great, images, but in low light, it's a different storey. Blurry pictures and drab colours are the norm, and while Nightscape mode attempts to fix the worst issues, it falls short. On the plus side, NFC functionality is built in, which means you can use your phone to make payments in stores with Google Pay, which is unusual for a budget phone.
The back fingerprint scanner is quick and accurate, and there's also a headphone port, which is becoming increasingly rare these days. Aside from the terrible camera, the N10 5G is a great phone that delivers on OnePlus' original promise: a lot of phone for a little money.
Pros
5G support
Good battery life
Bright, colorful screen
Fast charging
Headphone jack and NFC
Cons
Mediocre camera
No wireless charging
No official water resistance
2. Best for Features: Motorola Moto G Stylus
For years, Motorola has been producing good affordable smartphones, and the Moto G series is no exception. There are a few different variants, but the Moto G Stylus is the ideal for most travellers. Unlike many low-cost phones, the G Stylus does not have a cheap appearance. The clean design and small hole-punch camera notch make this phone appear more costly than it is, and it comes in a beautiful indigo hue.
With a mid-range Snapdragon 665 processor, 4GB of RAM, and a large 128GB of storage that you can also increase via the micro-SD card, what's inside is similarly amazing for the price. The 4000mAh battery should last you at least two days with regular usage. It offers a bright 6.4-inch display with a 19:9 aspect ratio and thin bezels, as well as 10W USB-C charging to keep you charged during a short layover.
On the back, there are three cameras (more on those below) and a fingerprint sensor. The Moto G Stylus also includes capabilities not found on many smartphones costing three times as much. There's a headphone port, for example, and the Moto Actions, such as shaking the phone twice to turn on the flashlight, are actually helpful rather than merely gimmicks. Of course, the most significant distinction is right there in the name.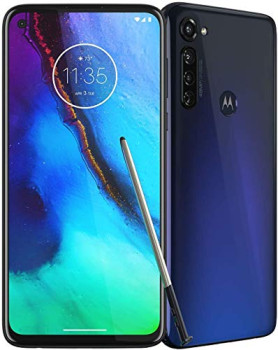 When you pull out a slim stylus from a container on the right side of the smartphone, it activates. It's pretty much the only affordable model with this capability if you're like writing or drawing on your phone. However, if the phone has palm rejection built-in, it isn't particularly effective. When you lay your hand on the screen, the cursor hops about, which will deter many people from using the stylus on a daily basis.
Given how much of the marketing relies around the pointing gadget, it's an odd oversight. The camera quality is superior to that of many other phones in this price bracket, including the Moto G Power, which we discuss below. In daylight, the triple rear camera array (48MP main, 2MP macro, and 16MP ultra-wide) performs admirably, while night mode offers at least a chance of usable images.
The ultra-wide camera is unique in that it can record landscape video while holding the phone in portrait mode since it is turned 90 degrees. This makes holding the phone stable a little easier, but don't anticipate anything spectacular. What is it about the Moto G Stylus that you don't like? Really, not much. It's only splash-proof, not water-resistant, and Motorola's failure to commit to more than a year of Android upgrades continues to be a letdown.
There's also no NFC or wireless charging, the former of which is a bigger deal than the latter. However, those are the only serious flaws in an otherwise outstanding phone for the money. The Motorola Moto G Stylus is a cheap smartphone that has the aesthetics and many of the functionality of a handset that costs much more.
Pros
Bright 19:9 display
Attractive design for a budget phone
Micro-SD card
Good battery life and fast charging
Headphone jack
Takes pretty good photos in daylight
Cons
Moderate performance
Low-light photos are unlikely to impress
No official dust or water resistance
No palm rejection when using stylus
No NFC or wireless charging
3. Best for Battery Life: Motorola Moto G Power
The Motorola Moto G Power, also known as the G8 Power outside of the United States, has a 5000mAh battery, making it our top selection for a smartphone with extended battery life in 2021. It's an obvious inclusion in our budget phone suggestions, given the price. You should be able to use it for at least two full days, and if you're not using it heavily, closer to three.
That's better than anything else in this price range worth acquiring. The Snapdragon 665 is a capable mid-range processor. With 4GB of RAM and 64GB of storage, you've got an affordable smartphone that's well-suited to travel demands. There's a headphone jack and a micro-SD slot for up to 512GB of extra storage, both of which are rarely found on smartphones that cost much more.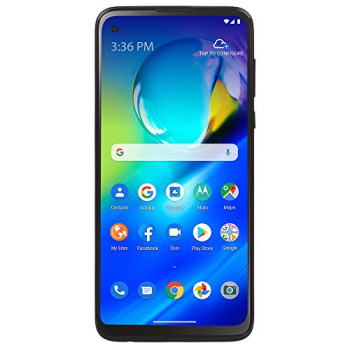 A 10W USB-C wall charger allows quick charging, and the phone has a fingerprint scanner on the back. There is no official water resistance certification, as is customary with Motorola products, however an unique coating gives some protection against rain and splashes. The phone is also a little bulky and hefty, but we much prefer the style to earlier models.
The camera is the most significant enhancement over previous models. When the lighting is excellent, you'll now get shots you like most of the time. However, because there is no special night mode, low-light shots aren't very good. The Moto G Stylus, which we stated earlier, will provide you greater results.
Overall, even if you didn't go 2+ days between charges, this would be a good phone for the money. When you add that to the equation, you've got yourself a pretty appealing budget smartphone.
Pros
Very long battery life
Reasonably-priced
Micro-SD card slot for extra storage
Headphone jack
Fast charging
Cons
Moderate performance
No official dust or water resistance
A bit heavy and chunky
Low-light camera performance is poor
4. Best on a Tight Budget: BLU Vivo X6
While all of the phones on our list are reasonably priced, there is still a significant price difference between the top and bottom. The BLU Vivo X6 is the way to go if you're on a small budget but still want a good phone. It has reasonable specifications despite its modest price. A 6.1-inch HD+ screen, two back cameras, and rapid charging are all included.
There's 3GB of RAM, 64GB of storage, and a 4000mAh battery that can last all day with moderate use. In person, the screen looks better than it does on paper. Although the HD+ quality isn't particularly thrilling these days, it's adequate for a low-cost gadget. As long as you're not looking at them from two inches away, images are bright, vivid, and fairly sharp.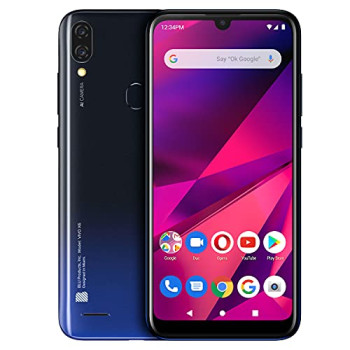 Dual SIM slots are usually handy for foreign travel, and the Vivo X6 has them. Because one of them doubles as a micro-SD card, you may forego the second SIM slot in exchange for up to 64GB of additional storage. There's also a headphone jack to go with a pair of decent earphones provided in the box, which is becoming increasingly unusual.
So, what's not to enjoy about that? It's the camera, as is typical of low-cost cellphones.
In perfect lighting situations, you'll get respectable results, but the rest of the time you'll end up with a fuzzy mess. Rather of relying on photos from this gadget, you should bring a specialised camera to document your trip. In 2021, I also dislike the use of a micro-USB socket. While the 10W charger isn't as horrible as it could be, USB C's charging speed and utility are far superior.
Finally, BLU has a bad reputation for keeping its phones' software up to date. Sure, you might get lucky and get an upgraded Android version at some point, but don't expect it when you buy the phone. Even with the flaws, this is a great super-budget smartphone for 2021, and it's better than anything available at this price. If you're on a budget and only need a phone that does the essentials well, you've come to the right place.
Pros
Great price
Decent specs and build quality for the money
Headphone jack
Dual SIM or micro-SD card slot
Cons
Poor cameras
Micro-USB port instead of USB-C
No official dust or water resistance
5. Best From a Big Brand: Samsung Galaxy A51
When it comes to Android smartphones, no one is more well-known than Samsung. While the firm is most known for its high-end Galaxy S models, it also offers a variety of other phones that aren't as expensive. The Galaxy A51 is an exception to the rule, as most of Samsung's lower-cost phones have failed to impress us in the past. It looks and feels more like a mid-range tablet, yet fitting within our budget pricing category.
To begin, you'll receive a stylish design and a sharp, vibrant 6.5-inch AMOLED screen that's among the best on any budget phone. Deep blacks, vibrant colours, and excellent visibility aren't normally associated with low-cost cellphones, but they're all available here. The Exynos 9611 CPU is a capable mid-range chipset that can handle demanding applications, such as mild to moderate gaming.
The A51 comes with 4GB of RAM and 64GB of storage in the US (a 6GB foreign model is also available). If that's not enough capacity, there's a micro-SD slot that can hold up to a 512GB card. It's not a dual-SIM phone, but because it's unlocked, you may use a local SIM to save money when travelling abroad rather than paying high roaming fees.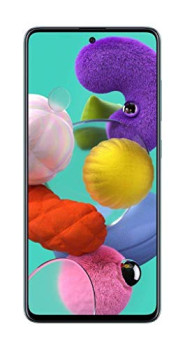 The battery is charged through a USB C connector, and a 15W fast charger is supplied in the box for speedy charging during long layovers. When it comes to battery life, the A51's 4000mAh battery can often last a full day of moderate to heavy use. That's a lot better than a lot of other low-cost devices. There's a headphone jack, which we always appreciate, as well as good speakers with lots of volume.
The fingerprint scanner is integrated into the display, and while it isn't the fastest, it is dependable and functional. As is customary with Samsung, there are a few superfluous apps that you can't uninstall. The A51 isn't as awful as some of the company's other models in this regard, but we'd still rather they weren't there. The cameras are probably the most significant difference between the A51 and the current Galaxy S model, which costs 2-3 times as much.
While both the front and back cameras perform admirably in bright light, they become fairly noisy in low light. On the plus side, the rear camera has a wide-angle lens that you'll probably utilise on the road. In short, the Galaxy A51 is a well-designed, appealing smartphone from the world's leading phone manufacturer that performs well and has few drawbacks. It's definitely Samsung's best budget handset in years, and if you want the comfort of a major brand without breaking the bank in 2021, this is the smartphone to get.
Pros
Attractive design
Excellent display
Good battery life and fast charging
Micro-SD card for extra storage
Headphone jack
Cons
Single SIM
No official dust or water resistance rating
The cameras aren't great in low light