For tourists, tablets make a lot of sense. Entertainment, research, communication, and more may all be done on a gadget that fits in a tiny backpack and isn't too expensive. The launch of some intriguing new models, as well as enhancements to many others, has occurred in the recent few months.
While most individuals who work on the road still prefer laptops, the distinction between those and high-end tablets is becoming increasingly blurred. You can now get tablets that allow you to accomplish serious work while remaining lighter and having a longer battery life than most laptops.
We've picked up the alternatives throughout the spectrum, from low-cost devices for viewing movies and keeping the kids entertained to serious powerhouses that can handle any workload you throw at them.
1. Best on a Budget: Amazon Fire HD 8
For years, Amazon has been the greatest low-cost tablet alternative, offering devices that are surprisingly effective for a low price. The Fire HD 8 is no exception, having recently been improved. If you're on a budget, it's currently the best combination of performance and price available.
This model's 8-inch display makes it portable while still being large enough to comfortably view movies. While the 1280×800 resolution isn't very high these days, it's enough for most tasks and offers longer battery life than higher-spec panels.
While it's not strictly required to double the inbuilt storage from 32GB to 64GB, it's worth it if you plan to download a few episodes to watch on the aircraft or install a bunch of games. There's also a microSD card slot inside for future storage expansion.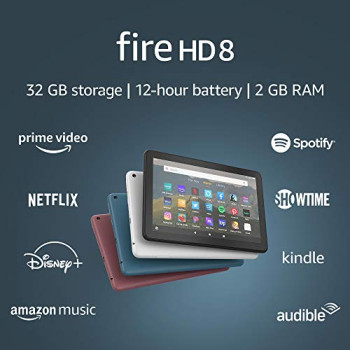 Alexa voice assistant compatibility is built-in, and the tablet is unlikely to break the first time you drop it on the table, which is remarkable for such a low-cost device. Still, as with any electronic device, it's good getting a case for it before hitting the road. USB C charging is a great addition to the current generation.
The included 5W wall charger will fully charge this tablet in five hours, but if you have a 15W charger on hand, you can do it in under three hours. The most important caveat? The Google Play store is not accessible by default, though there are several unapproved techniques for adding it.
While the Amazon app store has the majority of the apps you're likely to use, it doesn't have as extensive a selection, so you might find your favourite game or tool isn't there. Despite this, the Fire HD 8 is clearly the finest affordable travel tablet in 2021, with up to 12 hours of battery life and a variety of colours.
It also comes in a Plus model with wireless charging and more RAM for improved performance. This device is available alone or with a bespoke wireless dock that will come in handy around the house but is unlikely to make it into your carry-on.
Finally, if you plan to watch a lot of movies and want something with a larger screen, higher quality, and faster processing, the Fire HD 10 is a better option. We went through the larger model in detail here, and it's very fairly priced for what it is.
Pros
Ideal size for travel
Low price
USB C charging
MicroSD slot for adding storage
Cons
No access to Google Play app store by default
Screen resolution relatively low
2. Best General-Purpose: Apple iPad
Since the original iPad, Apple has controlled the tablet market, and it will continue to do so in 2021. The base model remains the best general-purpose option for most travellers after the firm upgraded the specifications earlier this year.
It's quick and dependable, with a brilliant 10.2″ screen that isn't distractingly reflecting in bright light. While it isn't the thinnest or lightest iPad of this size ever made by Apple, the size and weight aren't something you'll be complaining about.
The ten-hour battery life is adequate, and while the design is a little archaic in 2021, it's not enough to make you feel like you're purchasing outdated technology. The camera, like most tablets in this price bracket, is subpar at best, but using a device this small as your primary camera is a horrible idea anyhow.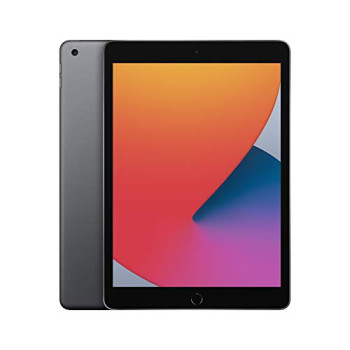 If you do need to snap a photo with it, it will be fine in good lighting but terrible in poor lighting. The normal model is Wi-Fi only, but there is also an LTE variant that you can use with a local SIM card to get cheap cellular service when travelling. The App Store, with its large selection of high-quality apps and games, is a major selling feature for any iPad.
Although most apps are also available on Google's Play Store, you'll find that the better apps are still available first on iOS. Support for the Apple Smart Keyboard is new this year.
Although you'll have to buy it separately, it gives up new possibilities for performing light work on the go without having to pay twice as much for the iPad Pro. If you're on a budget or need to do more intensive work, there are better options, but the current iPad is hard to beat for general travel use.
Pros
Fast and reliable
Access to Apple app store
First base iPad model with keyboard support
Cons
Somewhat expensive for what it is
No microSD card option
3. Best for Kids: Amazon Fire HD 8 Kids Edition
The sheer number of games, applications, and shows geared toward children is astounding. If you're travelling with children, there will undoubtedly be instances when you'll be grateful for that fact.
While it's all accessible on practically any phone or tablet, numerous companies offer add-ons or specific versions of their products that are designed just for children. Amazon, never one to pass up an opportunity, has nudged itself into first place in this area with a great mix of hardware, software, and services.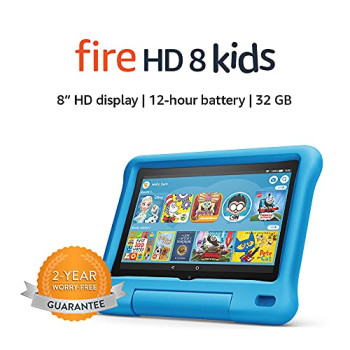 The Fire HD 8's size is ideal for small hands, and the same features that make the normal version our budget selection (12-hour battery life, 32GB+ storage, inexpensive cost) also make it a good choice for kids. The colourful (and quite robust) bumper shell that wraps around the tablet to protect it from drops is the most visible difference with the Kids Edition.
When even that isn't enough, there's a two-year replacement warranty. On the software side, Amazon has included the ability to limit content to only age-appropriate content, as well as establish usage restrictions, and control those settings either on the device or through a remote dashboard.
There's also a year of Amazon's Freetime Unlimited, which gives kids aged 3 to 12 access to 15,000+ movies, books, games, and educational apps. The firm also sells 7′′ and 10′′ versions of their Kids Edition tablets, but the 8′′ provides the most value for money. It's an excellent choice for travelling families, especially given the price.
Pros
Very durable
Impressive warranty
Parental controls built-in
A year of Freetime Unlimited subscription included
Cons
No access to Google Play store by default
Freetime software not always easy to use for young children
4. Best for Work & Play: Microsoft Surface Go 2
The Surface Go 2 from Microsoft is an intriguing tablet that straddles the line between casual use and serious work. It looks like a typical tablet with a 10.5-inch screen and a starting price of under $400 until you realise it runs Windows 10.
The Go 2's base model's Pentium Gold processor isn't going to set any speed records, but it can still run most Windows software and even play a few basic games without becoming unusably slow. However, we would still advise upgrading to the Core M3 model.
The processor is significantly faster, and the update also includes double the RAM and more, faster storage. The net effect is a significantly faster workstation. The keyboard cover is surprisingly comfortable to text on, and it comes with a trackpad so you don't have to poke the screen with your fingers.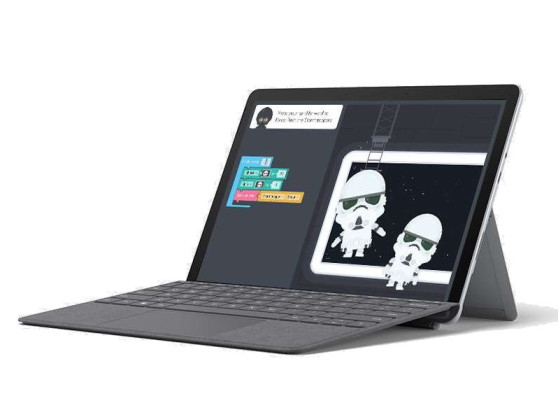 The keyboard is optional, but if you expect to do any typing on it, it's well worth the investment. The battery life is rated at up to 10 hours, but in practise, you'll probably get closer to six or seven. It's a nice computer, with better build quality and a bright, vivid 1920 x 1280 display than you'd expect from a Windows PC at this price.
Because storage is restricted, the ability to add a microSD card is a huge plus, as it's the ideal spot to store photos, TV episodes, and other items you'll need on the go. The Go's adjustable kickstand makes it equally useful for composing emails, watching movies on the plane, or reading in bed, and it's also a decent graphics tablet if you buy the Surface Pen.
It comes preinstalled with Windows 10 S, which allows you to only use programmes from the Windows Store, although there is a one-way upgrade to Windows 10 Home available. There's a model with an LTE modem integrated in if you want to stay connected everywhere you go.
So, what's not to enjoy about that? Mostly because of the price tag. Sure, it starts at $399, but it only gets you the base model, which comes with 4GB of RAM, a Pentium Gold processor, 64GB of slow storage, and no Type cover. Those specs aren't adequate to run most Windows software well, and you'd be better off getting an iPad if you simply plan on using it as a tablet without a keyboard or trackpad.
You'll have spent almost $700 by the time you add a keyboard, a faster processor, and double the RAM and storage to make it a good productivity machine. That isn't outrageous for a computer of this calibre, but it is a significant increase from the beginning price.
But there's nothing else on the market quite like it, which is why it's still simple to suggest. It's well worth considering if you're looking for a stylish, lightweight gadget that can serve as both an entertainment device and a serious productivity tool.
Pros
Good for both work and play
Lightweight for what it offers
Impressive display
MicroSD slot
Nothing else quite like it
Cons
Recommended configuration a big price jump from base model
Base model is too underpowered to be a true productivity machine
Battery not quite enough to get through a full work day
5. Best for Value: Samsung Galaxy S6 Lite
Looking for a tablet from a well-known brand that does everything well and isn't too expensive? Check out the Galaxy S6 Lite from Samsung, a newer model that checks all the boxes and throws in a few extras for good measure. The tablet comes in a limited number of colours, with 64 or 128GB of storage and a microSD slot that can accommodate cards up to 1TB.
The 10.4-inch screen, which has a slightly higher-than-Full HD resolution of 20001200, is more than large enough to comfortably watch your favourite shows. In all usual cases, the combination of a midrange Exynos processor and 4GB of RAM is powerful enough, with only the occasional delay in demanding games.
The cameras, like those on most tablets, are functional rather than excellent, but they'll suffice for video calls and the occasional snapshot if you're desperate. Similarly, the stereo speakers are adequate indoors or in quiet surroundings, but in noisy environments or for extra bass, you may wish to switch to headphones.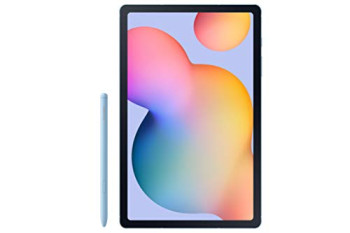 The inclusion of the Samsung S Pen stylus is a wonderful addition, expanding the tablet's capabilities to include handwritten notes and sketches. When you hold the pen close to the screen, little icons for things like notes and annotations show automatically. There's a headphone jack (at a time when many phones don't have one) as well as a USB C charging port.
The battery life is respectable, lasting roughly 13 hours, though charging the tablet with the included 15W charger takes a while. This device is positioned as a contender to the iPad's base model, and it's easy to understand why. The Galaxy 6 Lite is a solid all-purpose device that adequately satisfies the needs of most tablet users at a price they can afford, thanks to its same size, weight, and price.
While those on a tight budget will likely stick with Amazon's Fire 8 or Fire HD 10 (above), the Galaxy Lite 6 has a lot to offer those with a little more money. This is the best bargain Android tablet you can purchase right now, running Android 10, with a faster processor, better cameras, and a stylus tossed in for good measure.
Pros
Good battery life
Great value
Latest Android version
MicroSD slot
USB C charging
Stylus included in the box
Cons
Takes a while to charge back up
Cameras ok, not great
Occasional stutter in demanding games and apps
6. Best for Serious Work: Microsoft Surface Pro 7
If you're a full-time road warrior, you'll quickly run into some limits with Microsoft's Surface Go (above). The screen is too small to look at for several hours at a time, the battery life is a few hours too short, and if you choose the base model, you'll notice the slow CPU and storage as soon as you open Photoshop or have multiple tabs open in your browser.
You'll need to upgrade to the Surface Pro, the Go's bigger brother, if you want a tablet that can completely replace your laptop. Performance is on par with any other travel-sized Windows laptop, thanks to Windows 10 Pro and the latest generation processors, as well as configurable up to 16GB of RAM and 1TB of storage.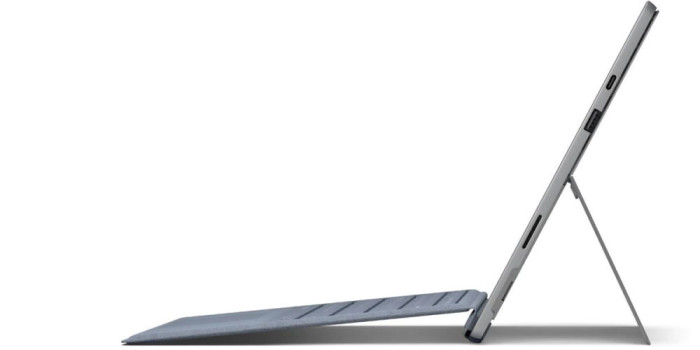 The 12.3-inch screen is a better size for working on all day, and the battery life is substantially greater at up to 10.5 hours. There's a USB C port as well as an older USB-A port for connecting your accessories, which is a pleasant presence at a time when manufacturers appear to be rushing to eliminate the latter.
Because it's closer to having a full-size keyboard and is substantially lighter than practically any conventional laptop on the market, the typing experience remains delightful, even more so than the Go for long typing stints. The i5 version of the Surface Pro 7 with 8GB of RAM and 256GB of storage is the sweet spot of performance versus affordability, and it's what we'd recommend for the majority of users.
Our recommended configuration, like the Go, is a significant upgrade from the starting price, especially because the keyboard cover is still not included by default.
In the future, we'd want to see Microsoft start bundling it. Even so, there's nothing else out there that offers the same combination of performance, weight, and utility. Its few rivals are equally priced, but they simply don't perform as effectively.
Pros
Impressive performance
USB-A and USB C sockets
Battery lasts a full work day
Much lighter than most standard laptops
Cons
Recommended configuration is relatively expensve
Doesn't include Type Cover by default