A mouse is still the greatest input device for your Mac, unless you have a special fondness for trackpads. There's no better option for video games or graphic design software because the precision and comfort are substantially improved, especially for extended use.
The Magic Mouse from Apple is a popular option, but while it's an excellent pointing device in its own right, there are better options available. Some are more ergonomic, some offer superior gaming performance and precision, and some are unquestionably less expensive.
These are our picks for the finest mice for Macs right now, whether you're looking for a cheap option or the best that money can buy.
1. Best Mouse for Mac: Logitech MX Master 3
The Logitech MX Master 3 is at the top of our list for one simple reason: it's one of the few mouse that isn't created by Apple that is specifically engineered to operate with Macs. The unique form factor of this mouse is one of the first things you'll notice.
Any reservations regarding the MX Master 3's efficiency will go as soon as you put your hand on it: it's one of the most comfortable mice we've ever used, with its distinct thumb rest being a particularly lovely addition.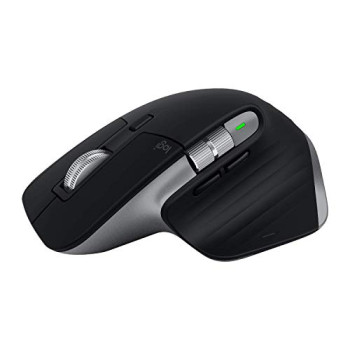 The MX Master 3 has a sensitivity of 4000 DPI, which is quite high for an everyday mouse, and it can even be used on a glass surface if you don't like mousepads. The integrated battery lasts up to 70 days when fully charged, and charging is done using a regular USB C cord.
Beyond the precision and comfort, though, we are particularly fond of the additional functionality provided by this mouse. Our favourite feature is gesture support, which lets you access shortcuts like swiping between sites or launching Mission Control using the same gestures you'd use on the trackpad.
There are several programmable buttons that you may assign to a variety of functions.
On the side, there's also a little scroll wheel for easily regulating things like music volume.
The MX Master 3's only flaw is that it's larger and heavier than your average mouse.
It's not that it's too huge to travel with (we've had an earlier version for years), but it's a lot bigger than our top travel option below.
However, if you don't mind the extra space in your bag or don't intend to use it outside of your home or workplace, this is a minor flaw in what is otherwise the greatest alternative to the Apple Magic Mouse.
Pros
Fully compatible with the Mac and iPad, including gesture support
4000 DPI
Ergonomic design
Customizable buttons and scrollwheels
Cons
Comparatively heavy and bulky
2. Best Ergonomic Mouse for Mac: Logitech MX Ergo
The Logitech MX Ergo is designed to decrease hand movements as much as possible, making it the most ergonomic mouse available. The trackball is key to achieving this aim because it allows you to manipulate the on-screen cursor with your thumb rather than moving the mouse around with your hand. There is a learning curve if you have never used a trackball before.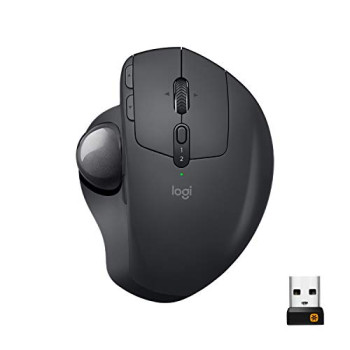 That is the MX Ergo's most significant flaw, but it is one that you will rapidly overcome. At the very least, there's a small button beside the trackball that allows you modify the sensitivity on the fly, which helps you find a comfortable tracking pace. The magnetic metal hinge that comes with the MX Ergo is an added ergonomic advantage.
It's attached to the bottom of the mouse and allows you to adjust the angle by 20 degrees to help your wrist reach a comfortable resting position. All of the buttons, including the left/right click and scroll wheel, are logically placed in relation to the trackball.
Most of the buttons are configurable, as is customary with Logitech, so you may assign frequently-used functions to them and reduce movement even more. If you have an older Mac, you can use the supplied wireless USB-A dongle to connect the MX Ergo, or Bluetooth if you have a later Macbook model with only USB C ports.
Overall, the Logitech MX Ergo is the ideal tool for the job if you're a Mac user searching for a more ergonomic pointing choice. The modest amount of time it takes to learn how to use the trackball interface will pay off in the long run.
Pros
Ergonomic design
Tilting stand helps reduce muscle strain
USB dongle or Bluetooth connection
Cons
Expect a learning curve if you haven't used a trackball before
3. Best Gaming Mouse for Mac: SteelSeries Prime
The SteelSeries Prime may not appear to be much on the exterior, but it's packed with capabilities that make it the best wireless Mac mouse for gaming. Unlike other gaming mouse, which rely on frills like replaceable plates and limitless buttons, the SteelSeries Prime focuses solely on performance.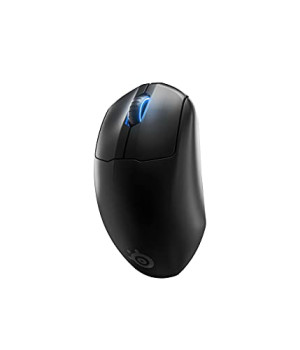 This is a competitive gaming mouse that weighs about 2.9 ounces. This improves precision and reduces fatigue, making it a better choice for competitive genres like first-person shooters (FPS), multiplayer online battle arenas (MOBAs), real-time strategy games, and other competitive games.
The great sensitivity of 18,000 DPI ensures that even the smallest motions are accurately caught. This is aided by the Prime's matte texture, which ensures a tight hold on the mouse even when your hands are sweaty from combat.
Because of the inherent lag, there is no Bluetooth support, which is common with gaming mice. Instead, the SteelSeries Prime connects to contemporary Macs through a USB C wireless dongle.
It's a lot bigger than the ones that come with most wireless mouse, so it's less likely to get misplaced, but it's not the most unobtrusive accessory we've ever seen. Nonetheless, the SteelSeries Prime demonstrates that when it comes to gaming mice, performance and precision always win out over bells and whistles.
Pros
Lightweight
High 18,000 DPI
Excellent grip
USB C dongle
Cons
USB dongle is quite bulky
No Bluetooth support
Expensive
4. Best Trackpad for Mac: Apple Magic Trackpad 2
The Apple Magic Trackpad 2 remains the greatest external trackpad for Mac and the gold standard against which all others are measured. There are two features that stick out. The first is the ultra-slim and visually appealing form factor. Despite being substantially larger than the touchpad on the Macbook, it is extremely thin and light.

It fits conveniently into a laptop case or backpack if you travel or work from multiple locations. The multi-touch surface, which supports Apple's Force Touch, is the other. It senses the amount of pressure you apply, just like the Macbook touchpad, and can correspond to several functionalities. For example, pressing harder on the trackpad will activate a "force click," comparable to having a third mouse button.
Apart from these two features, the Magic Trackpad 2 performs admirably. It responds quickly to taps, and the on-screen pointer follows your finger movements smoothly and naturally. Because it's an Apple product, it's tightly integrated with common macOS features like gestures.
Connecting to your Mac or iPad through Bluetooth is simple and quick, and the battery life is outstanding, lasting up to a month on a single charge. The Magic Trackpad 2 is our favourite trackpad for the Mac, despite its high price tag (it is, after all, an Apple product).
Pros
Slim and lightweight
Full compatibility with Macs and iPads
Force Touch support
Cons
5. Best Travel Mouse for Mac: Apple Magic Mouse 2
Although the Apple Magic Mouse 2 isn't at the top of our list of the best Mac mice, it does excel in one area: portability. The Magic Mouse's best feature is its small form factor. It's barely the size of a human hand, and it's much thinner, so you can easily put it inside your laptop bag or even a purse when travelling.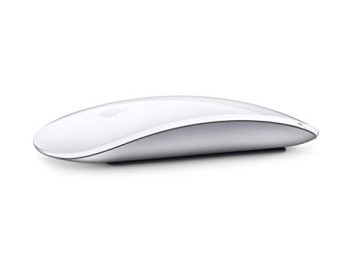 Despite its diminutive size, it is surprisingly comfortable to hold. The Magic Mouse 2 works nicely with Macs because it is an Apple product. That means motions are completely enabled, and it connects over Bluetooth fast and automatically. The Magic Mouse, on the other hand, has a few flaws.
The internal battery charges quickly using the Lightning connection, which is beneficial. However, Apple made the odd choice of placing the charging port on the bottom of the mouse, which means you can't use it while it's charging.
The Magic Mouse 2's sensitivity is also lacking: with only 1300 DPI, it's much lower than normal for the price. The mouse's low height isn't ideal for ergonomic comfort, so keep that in mind if you'll be using it for a long time.
The Apple Magic Mouse 2 is the way to go if you're looking for a compact, lightweight, and highly compatible travel mouse. Just be aware of its limitations first!
Pros
Slim and portable
Fully supports gestures
Connects quickly and easily via Bluetooth
Cons
Low DPI for the price
You can't use and charge at the same time
Ergonomics not amazing
6. Best Budget Mouse for Mac: JETTA Wireless Mouse
This JETTA model is the way to go if you're searching for a low-cost, no-frills wireless Mac mouse. It offers reasonable sensitivity for the money, with three DPI choices that can be adjusted (800, 1200, and 1600). It's also completely wireless, thanks to Bluetooth or a 2.4GHz dongle that's conveniently kept on the mouse's underside when not in use.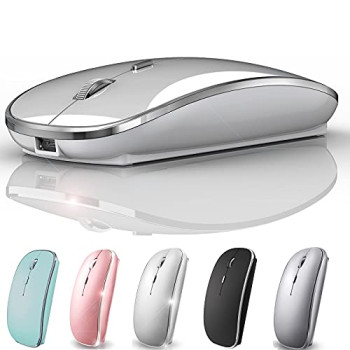 However, the dongle is USB-A, which isn't suitable for the latest Macs; Bluetooth is a better option. A microUSB port on the front of the mouse is used to charge it. Most folks have an old power charger hanging around, but if you don't, attach the USB cable to your Mac (via a USB C to USB-A adapter if necessary.)
On a single charge, the rechargeable battery can last up to 500 hours (three weeks). The mouse's auto-sleep functionality switches it off when it's not in use, which is a useful feature for extending its battery life. However, the mouse may take a few seconds to wake up after that, which can be a slight irritation if you're in a rush.
We'd love a USB C wireless dongle and charging connector, but the JETTA is still the best budget Bluetooth mouse we've discovered for Macs because it's cheap, looks good, and does all the essentials right.
Pros
Low price
Decent DPI
Good battery life for the money
Choice of Bluetooth or wireless dongle
Cons
Mouse takes a few seconds to wake up from sleep mode
Charging and wireless dongle would benefit from using USB C