An Apple tablet is not a cheap purchase, with the latest iPad Pro models starting at $799. For a new device, even the most basic version costs over $300. With such high pricing, it's critical to safeguard your investment, especially when you're on the go. The perfect iPad case for you is determined by a variety of factors, such as your travel needs, how you use your device, and your personal aesthetic choices.
A tough iPad case is essential for anyone who uses their tablet outside of the house, whether on a daily commute or on a trip abroad. We chose our top iPad covers for 2021 based on their overall value, protection, waterproofing, and any additional features.
What to Look For in an iPad Case
The best iPad case comes down to personal style and use. Think about how you use your iPad now and how you plan to use it in the future. What are your plans for it? Who else is going to utilise it? How much security do you require? Is it necessary to have a separate keyboard? Will it be used by the entire family, including young children?
You probably don't need a case that's drop-proof to 10 feet if you solely use your iPad at home or at work. You might not desire a thicker, larger waterproof case. However, if you're prone to spills and mishaps, a tough case like this could be just what you need.
Consider the case's appropriateness for outdoor activities and rough treatment when selecting an iPad case for long-term travel, but keep in mind the added size and weight that comes with it. When it comes to finding something kid-friendly, features like drop protection are even more vital than usual. There's a lot to think about, which is why we've put together this list of the finest iPad cases for a variety of uses.
Best iPad Case Overall: Zugo Case
Zugo Case sells a variety of stylish, well-designed iPad cases that provide protection, aesthetics, and a number of helpful functions that aren't always found elsewhere. All of the cases are drop-proof up to five feet, which is more than enough for indoor use at home or at the workplace. However, if you intend to take your iPad on more perilous activities, you'll need a more sturdy case.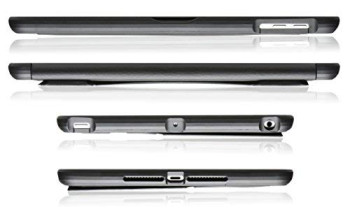 Protective iPad cases and waterproof iPad cases are among our top picks. These are the best iPad cases featuring a pencil holder, as well as our top overall pick. They all have a protected elastic stylus pocket on the rear that can hold an Apple Pencil, and the most recent models also have an Apple Pencil charger on the side that works even when your iPad is fully covered.
If you prefer a different style of iPad case, Zugo Case also makes an elastic Apple Pencil stylus pocket that you can stick anywhere. The case can be adjusted to eight different angles, and the magnetic kickstand is powerful enough to secure your iPad to a refrigerator if you want to. Despite having so many functions, the case is nonetheless light and has a clean, professional appearance.
Pros
Stylish and professional design
Lightweight and thin
Protective stylus pocket, plus Pencil charger on newer models
Cons
Higher price
Not waterproof
Less durable than some, so this isn't the best iPad case for toddlers
Best iPad Case for Protection: SupCase UB Pro
The SupCase iPad case is well-priced and contains useful safety features without being as bulky as some of the competition. It isn't the most gorgeous case we've ever seen, but it makes up for it in terms of protection. The SupCase UB Pro is a multi-layered shock-resistant case with a built-in screen protector that protects against scratches while maintaining touchscreen sensitivity.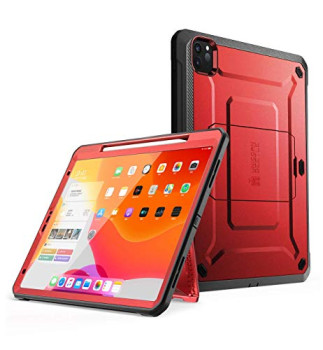 The mix of a polycarbonate hard shell and a flexible TPU inner protects against accidental bumps and accidents, and also enables new iPad capabilities like wireless charging and the magnetic attachment of the Apple Pencil. If your iPad has a habit of springing out of your hands or you plan to travel with it, this case will help protect your investment.
Pros
Affordable price
Built-in kickstand and screen protector
Impact-resistant for drops, bumps, and shocks
Cons
Plastic look and feel
Only one angle for kickstand
Best Waterproof iPad Cases
Waterproof iPad cases are difficult to come by. When it comes to actually keeping the water out, many cases have mixed reviews, and most brands only make waterproof cases for a couple of the current iPad sizes. Also, despite the marketing materials, no iPad case allows you to submerge your device indefinitely or to considerable depths!
Water-resistant? Yes. Is it really waterproof? Not at all.
Best Budget Waterproof Case for iPad: Shellbox
If you're on a budget and plan to use your iPad near water, the Shellbox is an excellent choice. It's the best low-cost waterproof case for the iPad mini and a few other models, with a dust and water ingress rating of at least IP68. It should be able to withstand being immersed for up to an hour at 3.3 feet/1m at a minimum.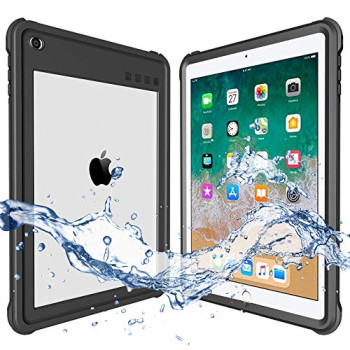 Even with a scenario like this, we don't recommend jumping into a pool or the ocean because one metre isn't that deep. Spills, pool splashes, and getting caught in the rain are all scenarios that the waterproofing is meant to handle. On your next snorkelling expedition, resist the impulse to use your iPad to identify fish!
The Shellbox can resist a 6.6 foot/2m drop in addition to protecting your iPad from water damage. Its built-in screen cover protects the display from scratches while still allowing you to text, slide, and scroll. A waterproof case like this can come in handy if you're prone to these catastrophes or if you have young children who will be using the iPad. If not, one of the SupCase or Zugo choices (above) is likely to be a better fit.
Pros
Submersible for up to an hour in up to 3.3 feet/1m of water
Can withstand rough handling
Affordable price
Cons
Only available for a few iPad models
No extra features like a kickstand or Pencil support
Best Waterproof Case for iPads: Catalyst
Catalyst has a lengthy history in the waterproof case industry, and it shows. IP68-rated cases are available for all recent iPad models, including the iPad Pro. They're waterproof up to 6.6 feet/2 metres and drop-proof up to four feet, with a shock-absorbing rubber bumper on the outside. Those protection specs are about as good as you'll find, but despite the added bulk of the cover, the audio quality of your iPad won't be harmed.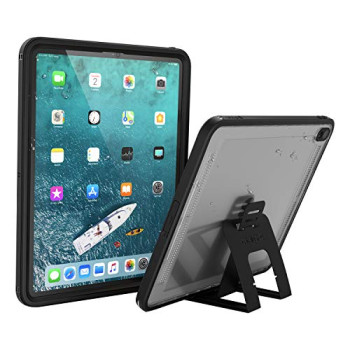 When your iPad is in the Catalyst case, you can't charge the Apple pencil, but TouchID works perfectly through the sensitive screen protector, and all of the ports are accessible behind waterproof stoppers. The cases are clear on the front and back, and they come with a retractable stand for when they need to be propped up.
The cases are easy to put on and take off, and they contain four lanyard connection points so you can carry your tablet around your neck when you're on the go. A waterproof casing is perfect for snapping images near a pool or at the beach, and Catalyst claims that you can also use them underwater.
Even with a high-end case like this, we still don't recommend submerging your iPad in water for too long if you can avoid it. If you're going to use it in the pool, it's best to stay above the water's surface. Instead, use the waterproofing to protect against spills, to use your pricey tablet safely at the beach or by the pool, and to help avoid the devastation that toddlers and young children leave behind.
Pros
Submersible for up to an hour in up to 6.6 feet/2m of water
Drop-proof up to four feet
Includes adjustable stand
Cons
High price
Can't charge the Apple Pencil with the case on
Best iPad Keyboard Case: Chesona
Chesona created an iPad case that protects the device while also providing a keyboard for quicker typing. The detachable Bluetooth keyboard has its own rechargeable battery, so it doesn't use the tablet's power. The case also includes a secure pencil slot for the Apple Pencil, as well as charging support for the pencil.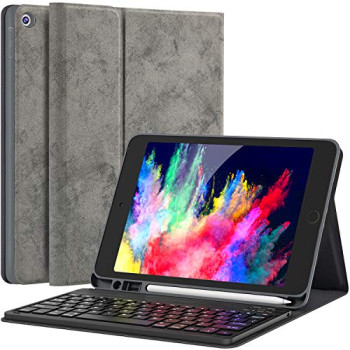 The Chesona keyboard case has three different modes of operation: typing, reading, and viewing. It's composed of thin synthetic (polyurethane) leather, so if looks are important to you, your iPad will be protected without being bulky or plastic-y. Both the keyboard and the tablet can be carried in the case at the same time, however a microfiber cloth should be placed between them to prevent the keyboard from scratching your screen.
Pros
Provides both protection and a physical keyboard
Lightweight design
Includes adjustable stand with three positions
Built-in pencil/stylus slot
Cons
Not available for all iPad models
Not as protective as some other cases
Best iPad Case for Kids: Gear4 Orlando
All of the covers we've discussed are geared at adults, but if you're like most parents, your kids use your iPad at least as much as you do. If you're in the same boat, or if your kids have their own iPad that you'd rather they didn't break, check out Gear4's Orlando cases. They employ D3O technology to guard against drops of up to six feet and are designed exclusively for youngsters.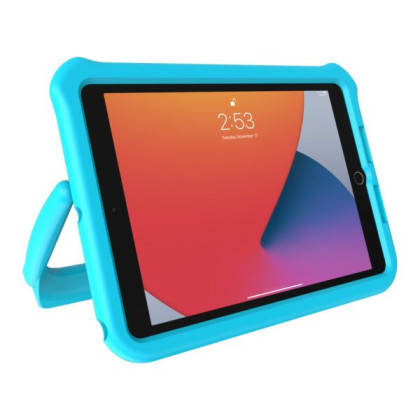 It shouldn't be a problem if you fall from the table or the sofa to the floor! The cases' exteriors are composed of thick EVA foam that is free of formaldehyde and other toxins, and they include an anti-microbial coating to help keep bacteria at away. All of the controls and ports are easily accessible, and the iPad has a beautiful carry handle on the back that makes it simpler to hold for small hands.
The handle can also be used as a stand to prop up the iPad or wrapped around the headrest of a vehicle to allow the kids to view a show while driving. It's a clever design that, when combined with the additional protection and appealing colours, makes the Orlando our top choice for an iPad cover for kids. The only significant drawback is that it's only accessible for newer 10.2′′ iPad models for now; there's no news yet on whether it'll be available for earlier models.
Pros
Plenty of drop protection
Attractive colors
Adaptable handle doubles as a stand and headrest bracket
Cons
Only available for recent 10.2″ iPads