The National Football League (NFL) is the most popular sport in the United States, and it also ranks among the most popular sports worldwide. All things football excite sports enthusiasts from all around the world, and NFL rookie cards are a big part of the excitement.
Sports enthusiasts and wealthy collectors alike spend millions of dollars on rare and mint condition rookie cards because they are worth a lot and their value continues to rise, allowing them to benefit handsomely in the future.
Collectors compete fiercely for autographed rookie cards because they are so uncommon.
Millions of dollars have been spent on rookie cards over the history of the sport. This list of the top five most valuable NFL rookie cards of all time was compiled by our Sportszion staff after considerable research.
#5. Joe Namath Rookie Card: $265,000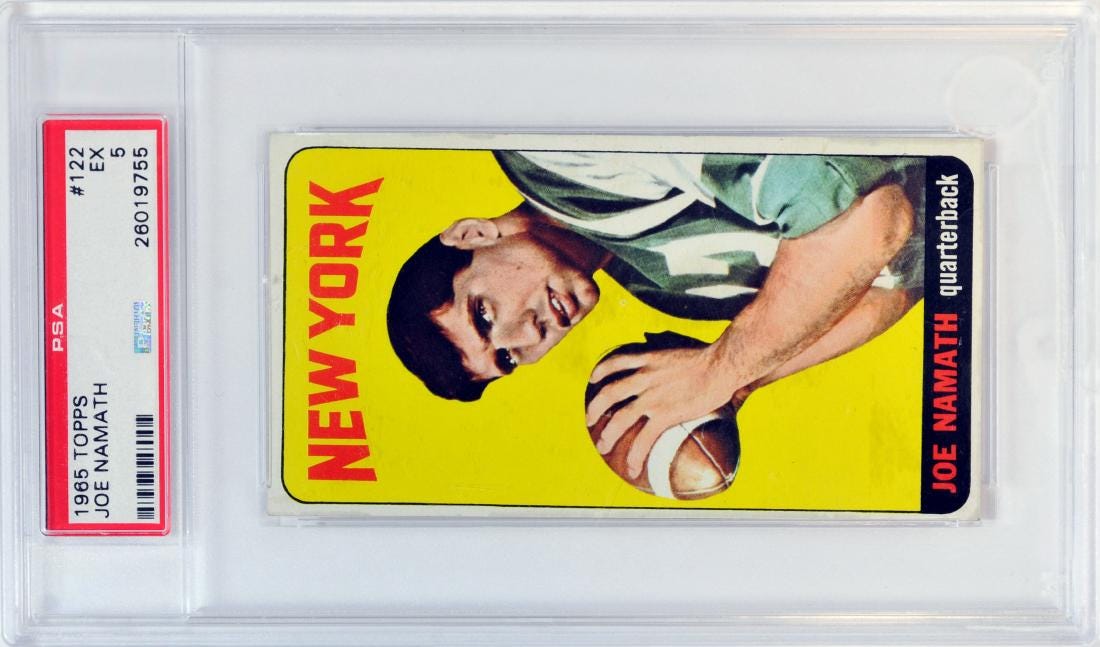 Every football fan on the planet has heard of Joe Namath, the renowned quarterback who led his underdog club, the New York Jets, to victory in Super Bowl III. The only rookie card certified by the professional Sports Authenticator (PSA) for the NFL Hall of Famer is also the most recognized rookie card in the whole hobby.
Because of its somewhat larger dimensions and rarity, the 1965 rookie card is one of the most sought for.
In February of 2018, the rookie card of the former Jets great player sold for a whopping $265,000 on eBay.
A MINT 9-grade variant of this card is valued at $275,000 on the official PSA website.
#4. Bart Starr Rookie Card: $288,000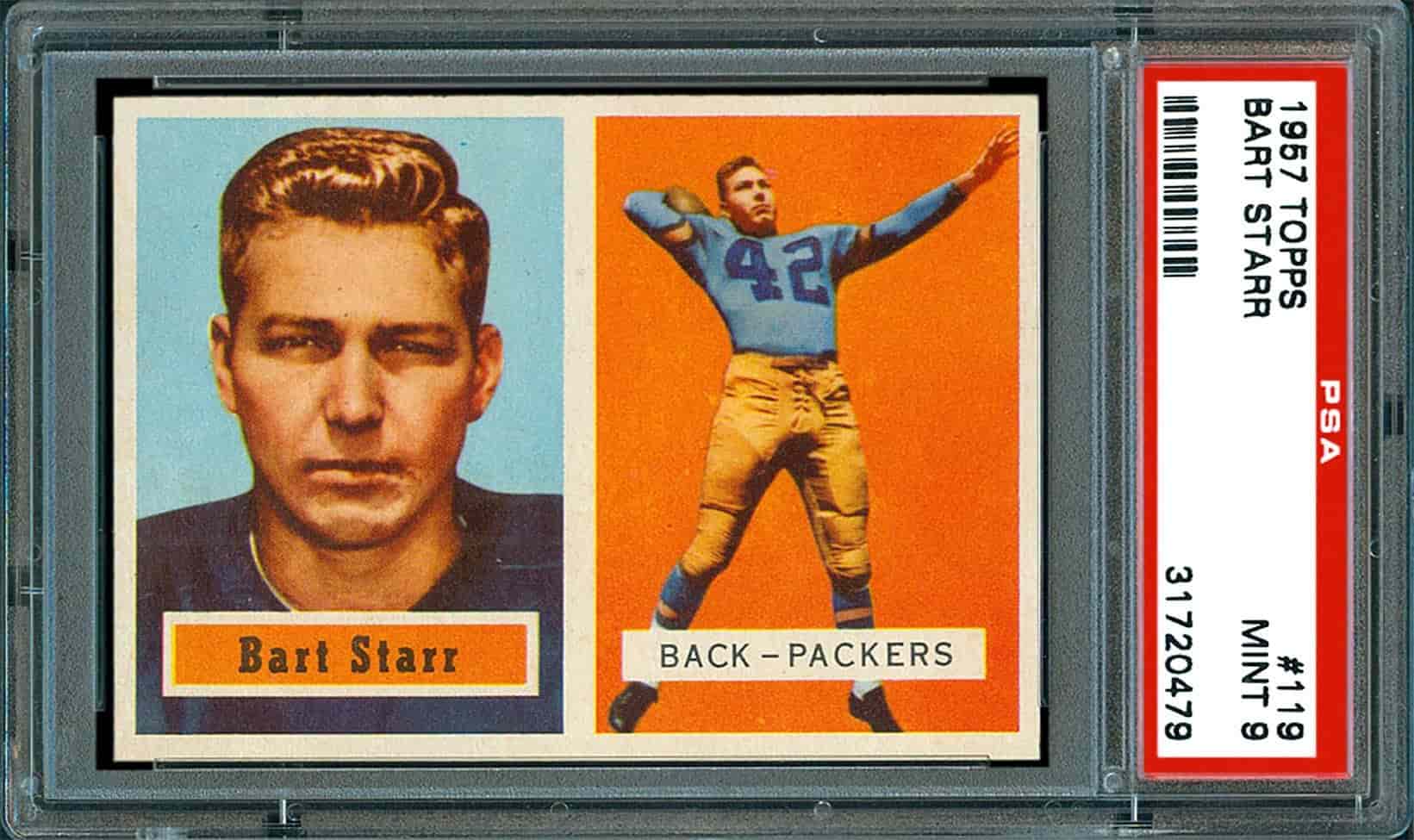 Bart Starr is a former NFL quarterback and coach who is largely regarded as the first quarterback to win the Super Bowl and the Super Bowl MVP Award. The rookie card of a veteran player is one of the most valuable collectibles in the world, as well as one of the rarest.
While a MINT 9-grade rookie card has a PSA value of $125,000, the only known 1957 Bart Starr rookie card in a PAS 9 case was sold at an auction held by Heritage Auctions in February 2017. Due to its high rarity, the card was sold for an astounding $288,000 and is still increasing in value.
#3. Jim Brown Rookie Card: $358,000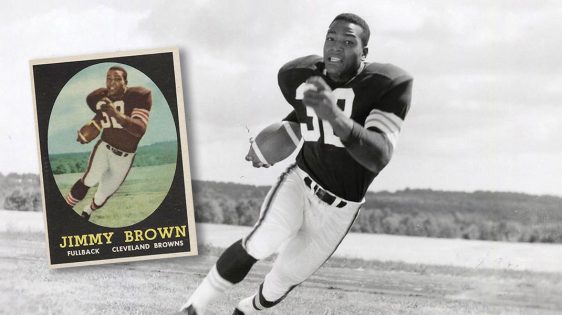 In a PSA 9 case, this rookie card is the most expensive football card ever sold. The former Cleveland Browns standout player is widely considered as one of the game's most iconic running backs and an inspiration to many.
The 1958 Topps rookie card of the former NFL star, which has been graded MINT 9, is unquestionably one of the most valuable items among sports card collectors. Jim Brown's rookie card sold for $358,000 at an auction in 2017 and has continued to appreciate in value since then.
#2. Tom Brady Autographed Rookie Card: $3.1 million
$2,927,372: Current top bid tonight, including buyer's premium, at @Lelandsdotcom for a signed Tom Brady Rookie Card (2000 Playoff Contenders Championship Rookie Ticket).

When the bidding is done, it is guaranteed to be a new all-time record paid for a football card. pic.twitter.com/Ls6QlhBCFj

— Darren Rovell (@darrenrovell) June 5, 2021
Tom Brady is largely considered to be the greatest NFL player of all time.The seven-time Super Bowl champion has achieved everything a professional NFL player can do. A few days ago, the quarterback for the Tampa Bay Buccaneers was at the top of this list.
Tom Brady's rookie card is the second most valuable football card of all time, and it has set multiple records.
In June of 2021, the NFL champion's 2000 Playoff Contenders Auto Rookie Card was auctioned for a whopping $3.1 million.
This card has a great value because it is autographed by the legend himself. In January of this year, another of his rookie cards sold for over $55,000. Collectors and fans from all over the world are certain that Tom Brady's trademark rookie card will reclaim the top rank in no time.
#1. Patrick Mahomes Autographed Rookie Card: $4.3 million
New all-time record for an NFL card: This 1/1 National Treasures @PatrickMahomes Autographed Rookie Card has sold for $4.3 million.

The previous record was a @TomBrady rookie card that sold for $3.1M in March.

(h/t @PWCCmarketplace) pic.twitter.com/GjA4h3Ip8O

— Boardroom (@boardroom) July 28, 2021
Patrick Mahomes made waves just a few days ago when his autographed rookie card shattered all prior marks established by the one and only Tom Brady. The Kansas City Chiefs' quarterback, who sadly fell to Brady and the Buccaneers in the previous Super Bowl, has Brady beat in this category.
It's also the only autographed rookie card in the world. PWCC, one of the world's largest sports trading card and collectible marketplaces, announced that the 2017 National Treasures Platinum Patrick Mahomes rookie card was sold for a record-breaking $4.3 million.
This is also the all-time biggest transaction for a football card, surpassing all previous records, and analysts anticipate that the card will continue to appreciate in value.