In a computer, the motherboard is the main circuit board. Its purpose is to link all of the components of a computer together. It provides the electrical connections that allow the system's other components to communicate.
The CPU, BIOS, RAM, mass storage interfaces, serial and parallel ports, expansion slots, and all the controllers required to manage conventional peripheral devices such as the display screen, keyboard, and disc drive are all contained within it.
It is the connection point for all components and external peripherals on a computer's primary communications backbone. The motherboard is a piece of computer hardware that serves as the computer's "backbone." The mainboard, system board, baseboard, planar board, or logic board are all names for the same thing.
What was the first motherboard?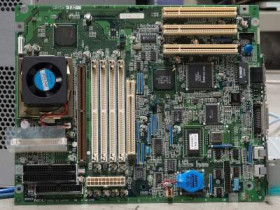 IBM referred to it as a "planar" rather than a motherboard at the time. The IBM Personal Computer and its motherboard would become the gold standard for IBM-compatible computer hardware in the future.
Phones, tablets, and other compact gadgets all include motherboards, but they're more commonly referred to as logic boards. The microprocessor, primary memory, and other critical components of a standard desktop computer are all connected to it.