Microsoft Teams is a fantastic video conferencing and collaboration solution that has come in handy in our pandemic-plagued globe. Unfortunately, several Teams features lack functionality or do not give users all of the necessary alternatives. The Call History function, for example, is quite restricted. Direct call data is only available for 30 days. You can't look at call records older than 30 days as a user.
In Microsoft Teams, how can I check my call history?
Click the Calls button on the left side of the program to see your Team's call history. Then choose History. On the right-hand pane, your call log should be displayed.
If you're a team administrator, go to the Teams Admin Center and choose Users.
Select the account you want to look at, then go to Call History.
Remember that the call history function is only accessible to Microsoft 365 subscribers with a Business Voice or Enterprise Voice subscription. You can only look at the call history data; you can't erase it.
How to Export a Team's Call History
Let's look at how to export call history data now that we've learned how to verify it fast. This is when things started to get a little tricky.
Contact your administrator if you want to look at call history data from more than a month ago. They may generate Usage reports or access and export call history data using Office 365 eDiscovery.
If you're an administrator, go to Analytics & Reports in the Teams Admin Center. Then go to Usage reports and run the latest three months' call reports. You must first configure Office 365 eDiscovery before using it.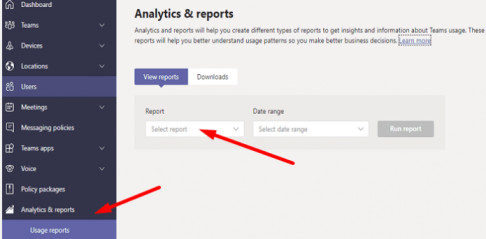 The data from your call history may then be retrieved and exported. This program may also be used to retrieve data from conversations and meetings. More information may be found at:
Alternatively, you may go at some of the Teams call history scripts on GitHub to see if they meet your requirements.
Conclusion
Microsoft Teams allows you to see call statistics from the previous 30 days by default. Contact your IT administrator if you need call history data older than 30 days. They may generate Usage reports or export call history data using Office 365 eDiscovery. How often do you use Microsoft Teams to access, review, and export call history data? Please let us know in the comments section below.