Google has introduced a few new capabilities for its smart TVs and streaming devices.
Users of Google TV will be able to add individual profiles to their devices with the latest software update.
This upgrade works in a similar way to Netflix and Disney Plus, where each user has their own profile. Each user profile has its own movie recommendations, as well as a watchlist and Google Assistant integration.
Google TV Gets Personalized Profiles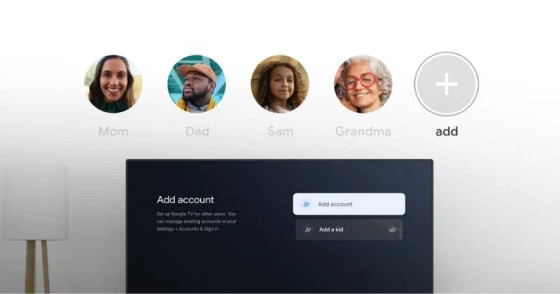 Previously, Google TV allowed users to connect into numerous Google Accounts and access the services with each one. All of the users, however, had access to the same content recommendations, Google Assistant capability, and watchlist feature. The principal account holder was the focus of all activity.
All profiles have been updated to be more personalised, with each user receiving their own watchlist, recommendations, and Google Assistant responses. By displaying profile information on the screen, the Google TV app will boost the ambient mode. It will display personalised recommendations such as weather data, the most recent sports scores, and more.
Parents can build up their children's profiles by allowing them access to children's movies and shows, according to a blog post from Google. Each account has its own watchlist, so you won't get mixed up with other people's. According to a Google spokesman, the update will be available on Chromecast with Google TV, as well as TCL and Sony, starting next month.
Kid's profiles were added to Google TV earlier this year. Google will add "glanceable cards" to the ambient mode once the upgrade is released. It will be more beneficial because your profile will be updated with valuable information such as news, sports, and other relevant information.
Users may scroll to access on-screen shortcuts for things like playing music and rapidly viewing images. Also, with the incorporation of streaming service Philo in its live TV features, as well as YouTube TV and SLING TV, there are a few new possibilities in live TV. Philo members will be able to watch their show on the Live TV tab as well as receive recommendations.