About Google Chrome Themes
A theme is a type of browser extension that alters the browser's appearance. Themes are packed similarly to standard extensions. However, they lack JavaScript and HTML code.
Last year, Google added a new Chrome customization tool that allows you to modify the color of the UI and browser tabs.
One of the most well-liked aspects of the Google Chrome browser is its ability to be highly modified. Google Chrome themes are a terrific way to customize the look of your browser. It can transform the entire appearance of the homepage and make your surfing experience much more rewarding and joyful. When it comes to Google Chrome themes, there are many more alternatives than you would imagine.
How to Install Chrome Themes?
Installing a Google Chrome theme is as simple as it gets. One word of caution: make sure you purchase your themes from Google's official Web Store for Themes. With that caveat in mind, here are the steps to installing your theme:
1. Open and run Chrome on your PC. Click the "Menu" button in the top right corner, which looks like three vertical dots.
2. Select Themes from the "Appearance" menu. Alternatively, you can use a direct link to the Web Store to get straight to the gallery.
3. Look through several thumbnails and categories to get the ideal theme.
List of 10 Best Google Chrome Themes
These themes provide you with a design channel that ranges from monochrome to vibrant and colorful patterns. Let's have a quick look at the top 10 Google Chrome themes.
1. Material Dark: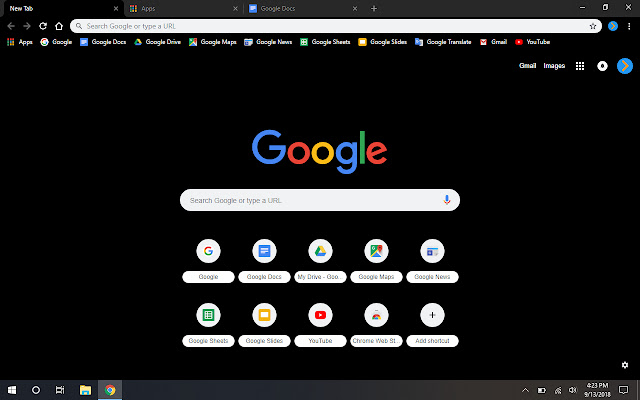 This attractive Chrome theme is activated when you click 'Add to Chrome' on the plugin. It is praised by millions of users worldwide for its user-friendly UI. The following are some noteworthy features to take note of:
Minimalistic black material design was the inspiration for this piece.
It's good for the eyes of folks who spend a lot of time using Google Chrome.
It gives the user a contrasting balance.
This is a minimalistic theme with dark colors and a calm atmosphere. It is appropriate for people of all ages and can be visually appealing. The dark hues contrast with Google Chrome's white text and menu items. This theme also works on Google Chrome, Chromium, and other Chrome variants.
Dark-colored material Since its inception, the Google Chrome theme has been updated regularly. Version 2.0.1 is the most recent release. If you download this theme from the official Chrome Web Store, you'll get the most current version. Several Chrome users worldwide prefer it because of its elegant appearance and simple layout. Furthermore, the gloomy style relieves eye strain, allowing you to have a more pleasurable and restful internet experience—the many shades of grey used throughout this theme complement each other beautifully.
2. Night Time In New York City: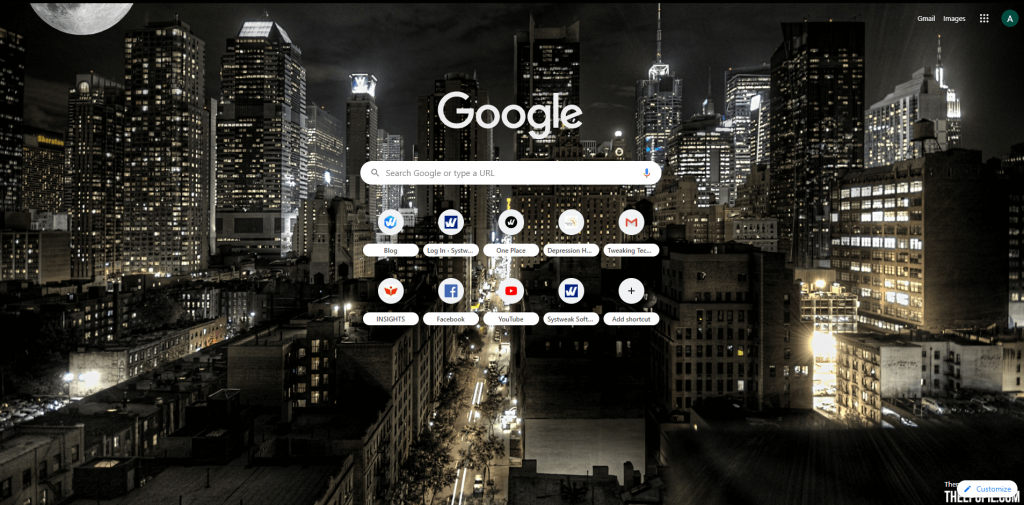 This theme will go nicely with your browser if you enjoy the night. It captures the magnificence of New York City nights in all their splendor. You can observe the city's stunning skyline and beautiful aerial views of major avenues. With the lights shining brightly on your screen, you can set the brightness to about 50%. This would allow you to appreciate the beautiful photographs in the background without putting your eyes under further pressure.
Enjoy a spectacular nighttime perspective of the glittering metropolis.
Bright colors should be avoided at all costs.
The creators of this theme have chosen the most breathtaking nighttime photographs of New York City. The pictures are of excellent quality, displaying even the most minor details with exceptional clarity. This is what adds to its appeal and enjoyment. You won't go back to any other theme for years once it matches your screen. It captivates you with New York City's beauty and leaves you wanting more. All of the backgrounds in this theme have been color-adjusted, making them even more appealing. Nothing can draw your gaze away from these breathtaking photographs, which feature architectural marvels around every corner.
3. Flying paint: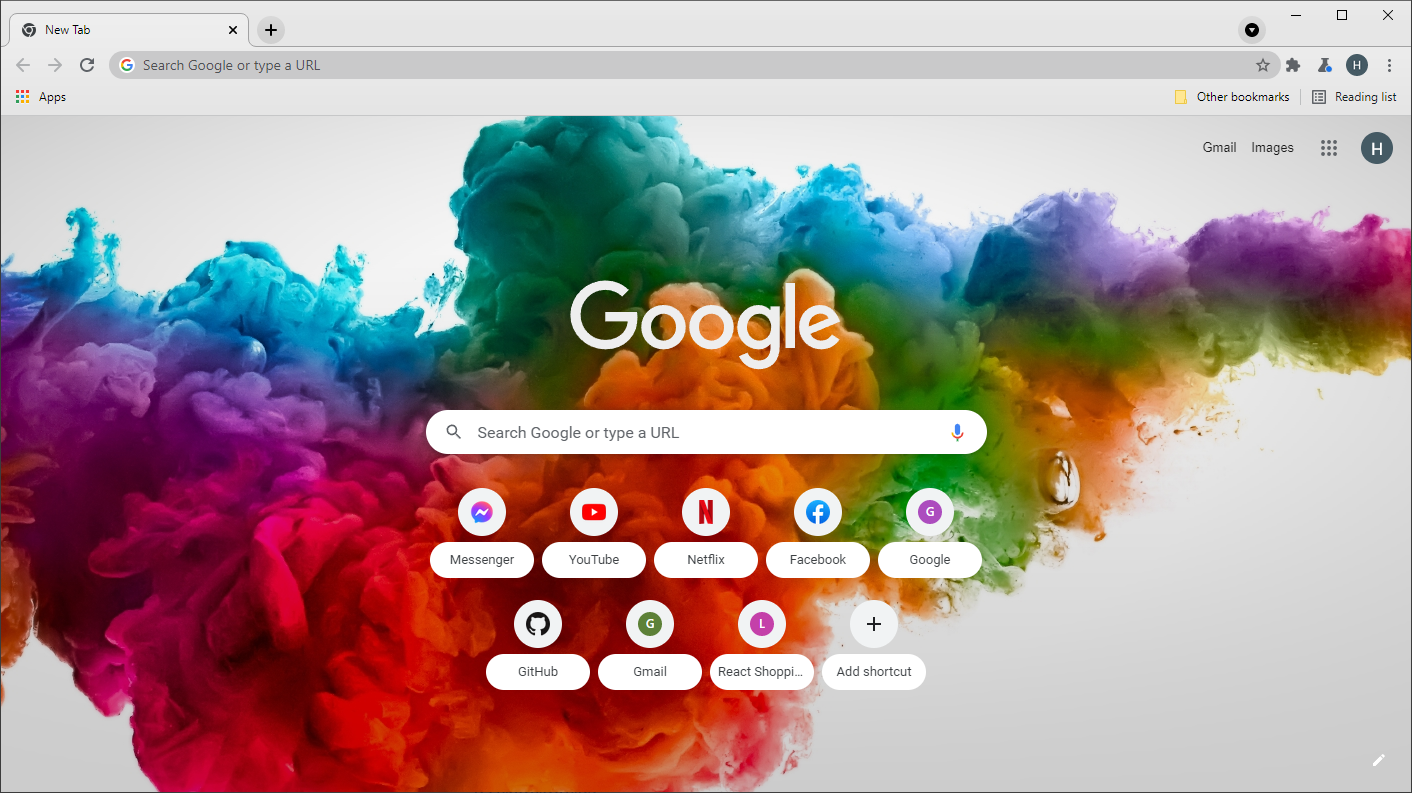 The third theme in our list of the most significant Google Chrome themes is the polar opposite of the first. This one is referred to as "flying paint." It's full of vibrant hues that flow over your screen like smoke or paint. This theme is unquestionably designed to brighten your browser to its maximum potential. Colors of the rainbow fly across your screen on a white background in Flying Paint. This creates an attractive contrast that complements the menu items on the Google Chrome homepage. Every time you open Google Chrome, the soft haze offered by these hues can improve your attitude.
It has a stunning aesthetic appeal as rainbow colors fly across the white background, coloring everything.
This theme is for you if you are a colorful person who enjoys a variety of colors in your life. This theme's color scheme isn't too overpowering and blends in nicely. If you're having trouble finding a theme that matches the color of your laptop or computer, Flying Paint is here to help. Its vibrant backgrounds go with every color or skin tone on your smartphone. Furthermore, the bright colors allow you to rapidly view the information on your screen, mainly when operating your system during the day.
4. Beautiful Landscape: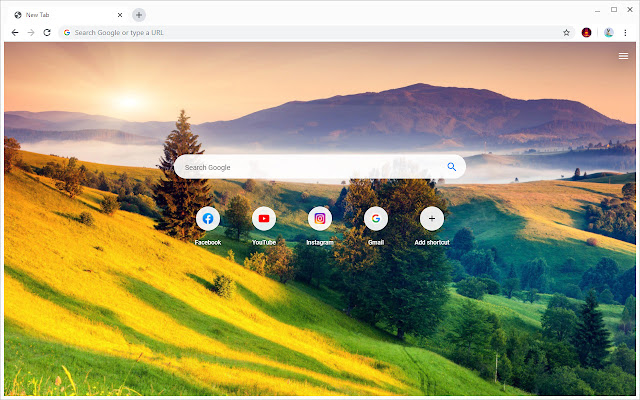 Let's take a break from the world of colors and enter the realm of nature. You may enjoy the most exquisite and picturesque scenery from around the world with the Landscape Theme loaded on your browser. This theme supports screen resolutions up to 1680 x 1050 pixels. It has a thumbnail block on all pages by default, although this can be disabled in the theme options. You will find that using Google Chrome after installing the Landscape theme is incredibly relaxing. You will undoubtedly feel peaceful and at ease when the natural green color dominates your display.
It runs on both Windows and Mac and has a large user base worldwide.
This browser theme might be described as simple, tranquil, and elegant.
This theme also works well with Chrome tabs, giving you a fully immersive experience every time you open a new one. On the homepage, no element of your background will be concealed, allowing you to enjoy every bit of nature this theme offers. You can make it the default background if you have a favorite scene. Otherwise, each time you open a new tab in the browser, these scenes will change. You can also save the lovely images on this theme to your computer's memory. This will allow you to match your system's desktop to your browser's theme.
5. Sahara: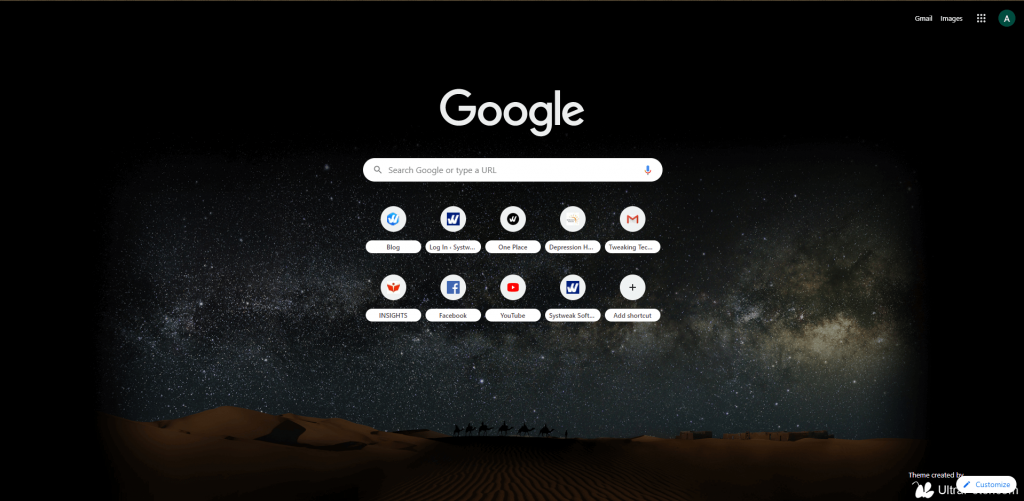 This Google Chrome theme depicts a beautiful night in the Sahara desert. A caravan of camels travels through the smooth desert in the background image. Dunes stretch for miles all around the fleet. The camels and their passengers are going to a bit of village with mud villages and tiny houses on the right. With the night sky full of stars in the background, you can see the galaxy shining upon the world.
This Chrome theme is made up of various images that have been combined to create a beautiful Chrome background.
According to the designer, Milkyway is spreading its wings from the top of the caravan on Arabian evenings. One of the most beautiful Google backgrounds.
This is a full-screen theme, with its image filling the space behind Google Chrome's open tabs. It also modifies the browser's menu items and bars. This theme's image is at 4k resolution. It comprises numerous photographs taken separately and then blended to create this fantastic scene. This theme also changes the toolbar and adds a lovely image from Casablanca to it. The general dark tone of this theme creates a relaxing atmosphere. The colors are just right, with the golden brown desert sand complementing the gleaming stars in the sky. Every time you access the homepage, you will undoubtedly appreciate viewing it.
6. Raindrops: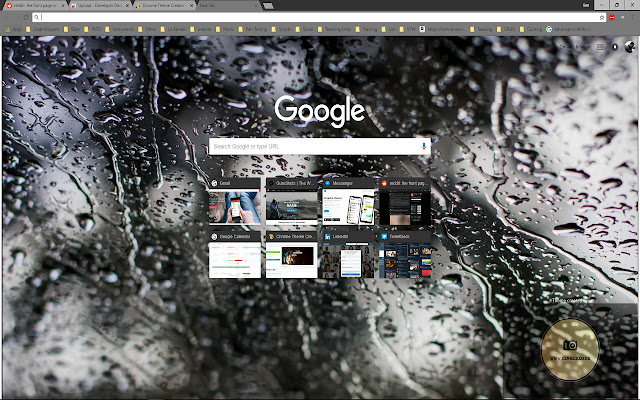 Raindrops is another fantastic Google Chrome theme that transports you away from the mundane browser homepage and into the possibly exciting realms of nature. The theme is relaxing with a dark background and raindrops strewn across the screen. You appreciate the tiny droplets of water dripping from your display's corners. This theme will appeal to anyone who enjoys the rainy season. It feels like you're driving away on a rainy night with nothing but happiness and delight in front of you whenever you open the browser.
For tranquil minds, light and elegant Chrome theme are recommended.
It gives the person browsing a true-to-life experience.
It refreshes your mind the first time you use it, and it continues to do so every time you use it. This theme has one of those rare qualities of being both peaceful and stimulating simultaneously. Navigating around the browser homepage is not a problem with easy-to-see tabs, header, taskbar, and bookmarks area. The image utilized by the theme's creators also takes over the Google Chrome banner, giving the impression that your screen has changed into a rain-streaked windshield. The good news is that it is even more appealing to the eye than it appears.
7. Abstract Blue: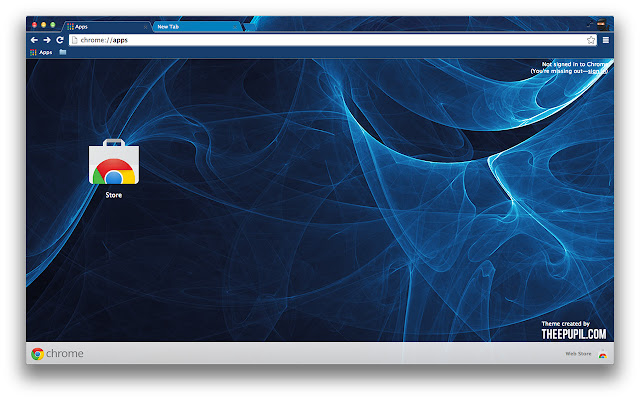 Thee Learner, a well-known theme designer, created this theme. The graphics in this theme drown you in their abstractness, with elegance and style written all over them. This theme gives your browser an entirely new appearance and feels, with a vibrant blue color running throughout your display. It also works flawlessly with the contents of the browser. The tabs are expertly maintained, with the active account changing to a light blue hue. Furthermore, the theme's blue color contrasts with a black background, giving it an even more elegant appearance.
Aesthetics that are simple and well-balanced.
Colors that are visually appealing entice you to return and open your browser.
Because this theme's backgrounds are primarily abstract, it also has a handy reflection feature. It allows you to reflect the backdrop image both horizontally and vertically. Once you've discovered the ideal setting, the theme will remember it and use it every time that image is displayed. You have complete freedom to modify that at any time. This theme is utilized by thousands of Google Chrome users worldwide because of its lovely colors and delightful design. The designers also regularly release new updates, including new photos and the most up-to-date functionality.
8. No Man's Sky: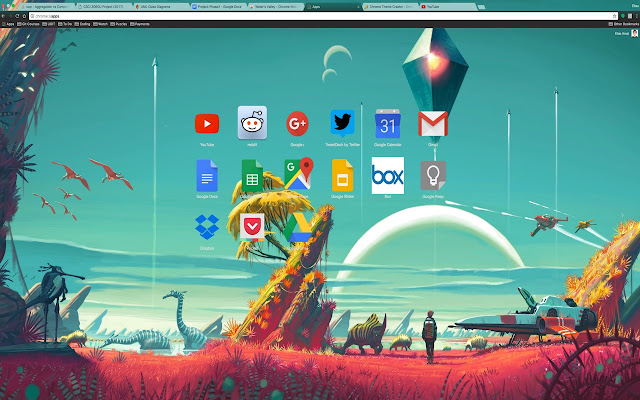 The creative artwork in this theme is fantastic, with brilliant colors and a beautiful location. Jets, boulders, plants, birds, UFOs, meadows, and other sci-fi-themed sceneries can be found on your site. The bright colors in this theme and a black toolbar create the perfect balance of beauty and functionality. The sky hue is also painted all over the header, with the tabs painted in a complementary color to the rest of the image. You can easily distinguish the active account from the others. You will notice the overall harmony of each thing on your screen once you have installed this theme.
The use of colors and the sky are incredibly typical and friendly.
This theme is also open-source. You can obtain the source code from the GitHub repository and modify it as you see fit. Even if we don't promote it because it's perfect the way it is now. All credit goes to the artist who created such a lovely image that arouses interest and imagination in seconds. This subject is made much more precious by the depth of field and the tiny details on each object. It may be scaled down for smaller devices and fits all screen sizes.
9. Amber Autumn: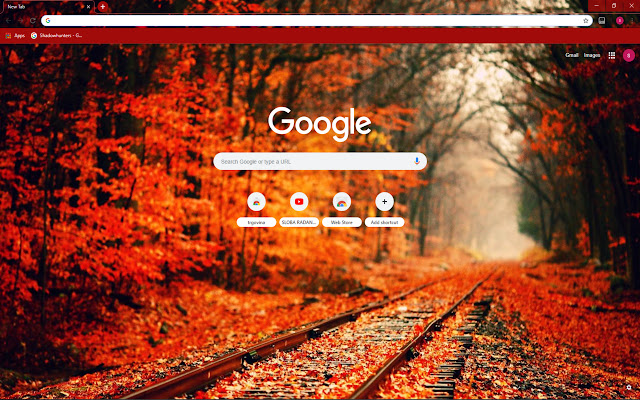 Autumn is a time for love and soul searching. This theme collects fall photos worldwide and arranges them in a grid with dark outlines. This offers your browser a fantastic appearance, which will undoubtedly delight you. It works with any screen resolution up to 1920 x 1080. One of the best features of this theme is that it takes up no room in the browser window and even rolls the image over to the space behind active tabs. It's hypnotic and enthralling as a result of this. You have the impression that you are operating your device while surrounded by golden leaves.
To look at, it's simple and serene.
One of the most popular Chrome themes, with millions of users worldwide.
The photos in this theme are all pretty appealing, with a warm and welcome quality. They cheer you up with autumn's golden splendors. This theme is ideal for giving your browser a fresh new look that it has never had before. You'll fall in love with it because of the distinctive hues and gorgeous gradients. In Amber Autumn, unlike many other themes, the bookmark part of the browser is also colored differently. It's tremendously beautiful, incredibly colorful, and very soothing.
10. Nordic Forest: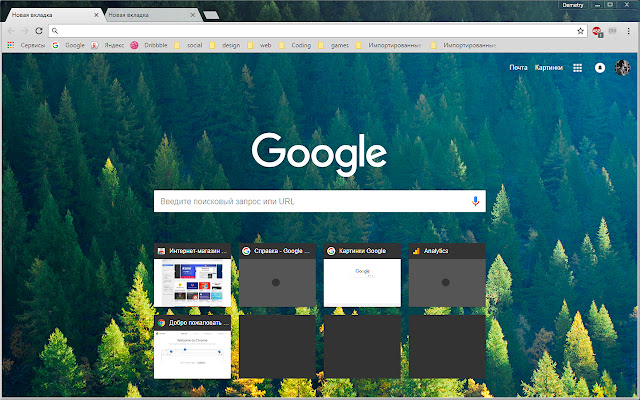 This is yet another fantastic Google Chrome theme that incorporates nature into your browser. This theme's effects will take your Google Chrome homepage to the next level. This theme's smooth colors don't interfere with any browser's menu item. It becomes even more pleasant as a result of this. Because of its appealing nature and uplifting background, users who have installed this theme on their Google Chrome browser tend to maintain it for more extended periods. The graphics on this theme, which feature dark mountains and rich green forests, remind you of the beauty surrounding us.
It's completely free to download and use for the rest of your life.
For a unique experience, new custom backgrounds can be applied.
This theme achieves the ideal balance of simplicity and elegance. The search bar and bookmarks area blend in with the background as well. Its designers chose a color scheme that is much more attractive and gratifying. This Google Chrome theme has everything you need, including stunning colors and breathtaking scenery. It allows you to connect with the natural features of the Nordic woodland. Furthermore, because the theme does not alter much on your homepage, you can continue navigating it as before.
Conclusion:
You should try one of the top ten Google Chrome themes now that we've listed them for you. Giving your browser a new design might be refreshing because it removes the tedious and outdated appearance you're used to seeing every day. Regardless of your preferences, customizing your browser and making it look the way you want it to is exciting.