Managing your company's finances, no matter how big or little, may be challenging. You can eliminate this concern by allowing the finest accounting software for small businesses to perform all of the heavy lifting for you.
You'll be able to get rid of Excel spreadsheets and other similar software after you've identified the finest accounting software for your needs. Indeed, there are several software options that allow you to manage payroll and other business-related activities with only a few mouse clicks.
If you utilise accounting software, for example, you can manage bookkeeping without paying a professional. It may also be used to manage stock orders and other task management requirements. These software choices can also aid in in-depth client analysis, facilitating customer relationship management.
We've done the research to find the finest accounting software for small businesses on the market and highlighted the key features of each choice to make things simpler for you. We also explore the benefits and drawbacks of each option. This essay will essentially help you figure out which accounting system is appropriate for your small business.
How Much Does Accounting Software for Small Business Cost?
Accounting software for small businesses can cost as little as $0 per month to as much as $150 per month. It's a great place to start, with options ranging from $0 to $40 per month. For small businesses, an essential strategy is the ability to keep track of revenue and expenses, send bills to customers, and generate financial reports.
Since most software is re-usable and adaptable, it's easy to make adjustments as the company expands. Using the more capable plans, companies may monitor inventory, produce more customised financial reports, conduct payroll, and pick from a larger variety of invoicing option.
1. FreshBooks

For most service-based businesses, invoicing is the most significant accounting need. In comparison to other accounting software, FreshBooks offers more invoicing customization possibilities. Its primary function is to send, receive, print, and pay invoices, but it may also perform basic accounting for a company. For service-based businesses, this accounting software automates the process of sending proposals and invoices, asking deposits, collecting client retainers, monitoring project time, and receiving payments.
FreshBooks began as an invoicing software in Toronto in 2003. FreshBooks now employs over 500 employees and has added more features over time. There are four distinct types of software available, and paying yearly rather than monthly saves companies 10%. FreshBooks also offers a six-month subscription at a 60 percent discount. Lite ($6 per month), Plus ($10 per month), Premium ($20 per month), and Select ($20 per month), which is a customizable service with unique pricing, are the four plans.
The number of different clients who may be billed each month is the main difference between the four applications. The Lite package allows you to bill up to five clients each month. The Plus plan allows you to bill up to 50 customers each month. The Premium plan allows you to bill an unlimited number of customers each month. The Select plan does not have a cap on how many clients can be invoiced per month, but it does have certain unique features.
The accounting software costs an extra $10 per month for multiple team members, and the advanced payment option, which allows users to charge a credit card in real-time or set up a recurring credit card charge for a customer, costs an extra $20 per month. There are app connections for Shopify, Gusto, Stripe, G Suite, and other third-party apps. FreshBooks invoices may be completely customised and altered for a professional appearance, which is a unique feature. FreshBooks is a great tool for project planning, delivering estimates or proposals, and collecting money from customers.
2. QuickBooks

From the ones we looked at, QuickBooks Online is the best overall accounting software for small businesses. Not only do the great majority of small company accounting experts use QuickBooks Online, but there are also a plethora of online training courses and forums where you may get assistance if you need it. All accounting aspects are available from a single primary interface, allowing for more fluid and efficient bookkeeping.
Intuit's QuickBooks Online has long been the most popular accounting software among small businesses and their bookkeepers and tax professionals. The programme is hosted in the cloud and may be accessed using a web browser or a mobile app. The subscription tiers are as follows after the 30-day free trial: Simple Start is $25 per month, Essentials is $40 per month, Plus is $70 per month, and Advanced is $150 per month.
Typically, a significant discount is given for the first few months, and some accountants can even offer small businesses wholesale costs. The monthly subscription for this programme may be upgraded as a company grows, and the mobile app, which can be used to process payments, review reports, capture a picture of a receipt, and monitor business miles, has several customization options. For businesses looking for a payroll solution, QuickBooks Payroll is completely integrated with QuickBooks Online.
Each plan adds more advanced features like inventory management, time tracking, additional users, and budgeting. The majority of service-based small businesses will benefit from Simple Start. For small businesses who offer items, Essentials or Plus will provide extra inventory and customization options. The Advanced subscription is a new option that includes Fathom's full financial reports. Fathom is a high-end online financial report analysis programme that is used by many of the world's largest organisations.
3. Wave

Wave is a great accounting software platform for a service-based small firm that just has to send out simple invoices and doesn't need to store inventory or conduct payroll. The free features of Wave will cover all of the accounting needs of many freelancers and service-based businesses, making it the best free software in our review. Accountants may utilise Wave to pull the reports they need to complete a company's annual tax return.
Wave was founded in 2010 and is based out of Toronto. The firm, which employs over 250 people, was recently bought by H&R Block. This free accounting software provides everything a small business needs, including income and expense management, financial reporting, invoicing, and receipt scanning. These features are accessible both online and via the mobile app.
Although all bookkeeping, invoicing, and reporting operations are completely free, customer payment processing and payroll are considered premium services that must be paid for individually. Wave generates revenue through its payment system. Wave charges 2.9 percent plus 30 cents for Visa, Mastercard, and Discover transactions, and 3.4 percent plus 30 cents for American Express transactions.
These costs are a little higher than those of rival accounting software. In addition, when processing an ACH payment rather than a credit card, Wave charges 1% each transaction with a $1 minimum fee. Other accounting software does not charge a fee for ACH payment processing, therefore Wave stands apart in this sense.
4. Zoho Books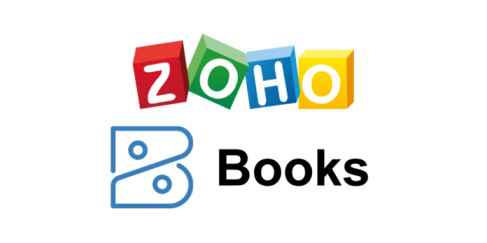 Zoho Books is part of the Zoho suite of services, which comprises more than 40 business applications such as CRM, HR software, and reporting tools. Zoho Books is a web-based accounting platform that lets you view your account from anywhere with an internet connection and utilise their mobile accounting software for Android and iOS.
Zoho Books' pricing is separated into four tiers, allowing you to upgrade and scale your business as it grows. The four Zoho Books plans range in terms of functionality, as well as the amount of users and processes available. To get started, Zoho offers a free plan. The Standard plan, which costs $20 per month, the Professional plan, which costs $50 per month, and the Premium plan, which costs $70 per month, are the other options.
Regardless of plan, invoicing, estimations, the ability to link your bank accounts, reporting software, a client portal, and the ability to integrate with any of Zoho's other products, as well as third-party tools like Zapier and Stripe, are all included.
5. Xero

Xero is the best alternative for microbusinesses looking for reasonably simple accounting software, according to our research. This programme has a simple user interface and integrates with a third-party payroll provider effortlessly. Due to Xero's integration with Stripe and GoCardless, customers may pay for services online. Xero was founded in 2006 in New Zealand and today has over two million users worldwide.
In New Zealand, Australia, and the United Kingdom, accounting software like this is frequently utilised. Xero has over 3,000 employees and is rapidly expanding in the United States. Xero offers three different monthly subscription levels, as well as a payroll add-on: Starting at $11 a month, it rose to $32 before settling at $62 per month. For an additional $39 per month plus $6 per employee, Gusto offers a full-service payroll solution.
The firm offers a 30-day free trial as well as a two-month 50% off discount. The Early plan has a five-invoice or quote limit, five-bill limit, and a monthly reconciliation limit of 20 bank transactions. This restricted package may be suited for a consultant or small service provider who does a few high-ticket transactions each month.
Both the Growing and Established plans allow an infinite amount of invoices, bills, and transactions to be created. The only difference is that the Established plan comes with added features including multi-currency, expenditure control, and project costing. All three tiers feature Hubdoc, a bill and receipt capturing programme.
6. Patriot

Patriot Accounting has been in the accounting software market for more than three decades and is based in Ohio. They aim to help small businesses by offering payroll services and software. Patriot's payroll feature has two options: a basic self-service option ($10/month + $4 per employee/contractor) that allows businesses to use Patriot's payroll software to run their own payroll but handle their own taxes, or a full-service option ($30/month + $4 per employee/contractor) that allows Patriot to handle all payroll tax duties.
Both options include payroll setup and assistance, as well as QuickBooks or Patriot accounting software connection. Patriot aims to help small businesses, and our users feel that it has a significant advantage over QuickBooks in terms of ease of use and customer service, both of which are crucial for small businesses with limited resources.
If you want to perform your own payroll with your accounting software, Patriot can save you about $15 per month compared to QuickBooks, or up to $35 per month if you don't mind completing your own payroll taxes.
7. Sage

Sage is an all-in-one accounting programme. It produces a balance sheet and makes bank reconciliations easier. Sage Accounting Start is also highly cost-effective, starting at just $10 per month. Do you require more functionality than the $10 per month version provides? For $25 per month, Sage Accounting gives you unlimited collaboration, bids and estimates, vendor bill monitoring, cash flow forecasting, and the choice to employ cash or accrual accounting.
Also accessible are HR software, POS connectors, ecommerce features, and sales & marketing software. Sage, like Intuit (the manufacturer of QuickBooks), has a variety of options to help you scale your business, including an accountant partnership programme and its own series of seminars to help you learn, collaborate, and grow.