iOS 15.1 has received an update from Apple, and it's now available for download. SharePlay, ProRes video capture, and other enhancements are included in the most recent release. Let's see what the new iOS has to offer and how to get it installed.
It was expected that SharePlay will be included in iOS 15, however it's already available with iOS 15.1. It allows users to communicate with one other by making phone calls, sending text messages, or watching movies or TV shows or listening to music. In addition, it synchronises the content so that everyone can enjoy it simultaneously.
iOS 15.1 Brings SharePlay, ProRes Video, & More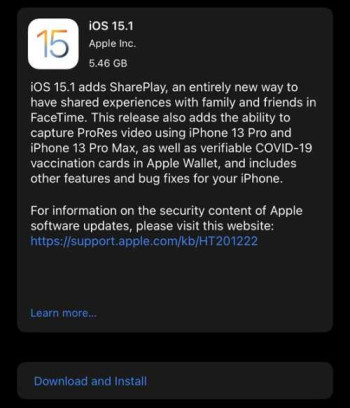 With the exception of SharePlay, the camera on the iPhone 13 Pro has seen upgrades thanks to iOS 15.1. To turn off automatic macro mode on the newest iPhone, you can use a new Auto Macro toggle. iOS 15.1's ProRes video capture offers enhanced video quality at 30fps / 1080p on 128GB models and 4K on 256GB and higher models.
Apple's HomePod 15.1 software upgrade adds Dolby Atmos and Lossless Audio to the smart speakers. Lossless audio and Spatial audio can be turned on and off via the Home app if desired. Vaccination cards from Covid can now be stored in the Wallet app on iOS 15.1 or later.
It resembles Google's Android operating system in many ways. Apple's Home app, Shortcuts, and other features have all gotten an upgrade as a result of the update. The battery algorithm has reportedly been modified for iPhone 12 devices. The iOS 15.1 update will be delivered to iPhone users automatically.
It's an over-the-air (OTA) update that just went out. To see if the update has been installed, go to Settings >> General >> Software Updates on your device. If it isn't already updated, simply click on the button that says "Install Update" to get started. After releasing iOS 15 in September, Apple has now released iOS 15.1 which includes the previously unreleased features.