Nothing is more frustrating than leaving the house with the sun shining brightly, your hair done, and your favorite clothing on, only for the rain to pour minutes later. It happens so quickly that your sole thought is, "I wish I'd checked the weather."
Forecasts are available whenever you need them, thanks to mobile weather apps. Numerous applications provide hour-by-hour breakdowns of temperatures, precipitation amounts, air quality, and other information to keep you informed and safe. They also provide the daily maximum temperature. Although many of these applications capture and share personal data, which might be risky to your privacy, they can be helpful. Because of this, it's crucial to comprehend their privacy rules as well.
If you use an iPhone or Android, your smartphone already has a built-in weather app. However, if you don't like it or it isn't functioning correctly, you can try other apps.
What are weather apps? 
Mobile programs called "weather apps" are made to give users access to the most recent weather data for any place, including their current location. These apps frequently forecast temperature, precipitation, wind speed, humidity, and other factors. To assist users in organizing their activities and staying up to date with weather conditions in real time, they frequently feature interactive maps, radar imagery, and severe weather alerts. With the ability to inform decisions about what to dress, when to go, and how to prepare for shifting weather patterns, weather applications have evolved into indispensable tools for daily living.
Pros and cons:
Pros:
Accessibility: You can check the Weather wherever you are with the help of weather apps, which offer quick and simple access to real-time weather information on your smartphone or tablet.
Convenience: Users can get local weather forecasts personalized for their location, which is helpful for daily planning, travel, and outdoor activities.
Information in-depth: Many applications include in-depth weather information, such as temperature, precipitation, wind speed, humidity, UV index, and more.
Radar and Maps: They frequently feature interactive radar maps and satellite imagery, allowing viewers to follow storms and see weather trends.
Alerts and Warnings: Weather apps may send out prompt alerts for extreme Weather, protecting users during storms, hurricanes, and other catastrophes.
Forecast Accuracy: These apps typically rely on current information from meteorological sources, improving weather forecast accuracy.
Cons:
Battery Drain: Running weather apps continuously can deplete the battery, mainly if they use location services and receive regular updates.
Data Usage: Users with low data plans may be concerned about frequent updates and map downloads' potential for significant data usage.
Privacy Issues: If improperly managed, several weather apps may gather and share user location data, leading to privacy issues.
Inaccuracy: While weather applications try for accuracy, forecasts can occasionally be inaccurate, resulting in unexpected weather conditions.
Overdependence: Users who depend too much on weather applications may overlook their observations or other reliable weather information sources.
Limited Features: Users who want more features from weather applications may have to pay for the premium versions, which contain more functions.
10 Best Weather Forecast Apps:
1. Emergency Alerts – Best Weather Apps
Even though you hope you never need it, having American Red Cross Emergency Alerts on your iPhone or Android device will be helpful in an emergency.
Emergency: Alert tracks everything from hurricanes and floods to extreme heat and winter storms. It is a valuable software to keep permanently installed on your phone. Not only will Emergency watch over your house, but you are also be allowed to enter important cities and people. To reflect the reality of climate change, the app has been upgraded to include 40 different personalized warnings.
2. Clime: NOAA Weather Radar Live
The program, formerly known as NOAA Radar Pro but now branded Clime, With its real-time radar supplied right to your phone and showing the changing weather conditions nearby, stands out from the competition. iOS users can now access lock screen widgets as well.
Severe weather alerts and the usual 24-hour and 7-day forecasts are also given. Clime should be used because its satellite weather imaging offers a comprehensive view of precipitation, temperature, and other weather factors.
Only paying subscribers have access to Clime's most outstanding features, which include temperature maps, trackers for hurricanes, lightning, and wildfires, severe weather notifications for all bookmarked locations, and severe weather alerts. Additionally, subscribers don't see any ads.
3. AccuWeather – Best Weather Radar Apps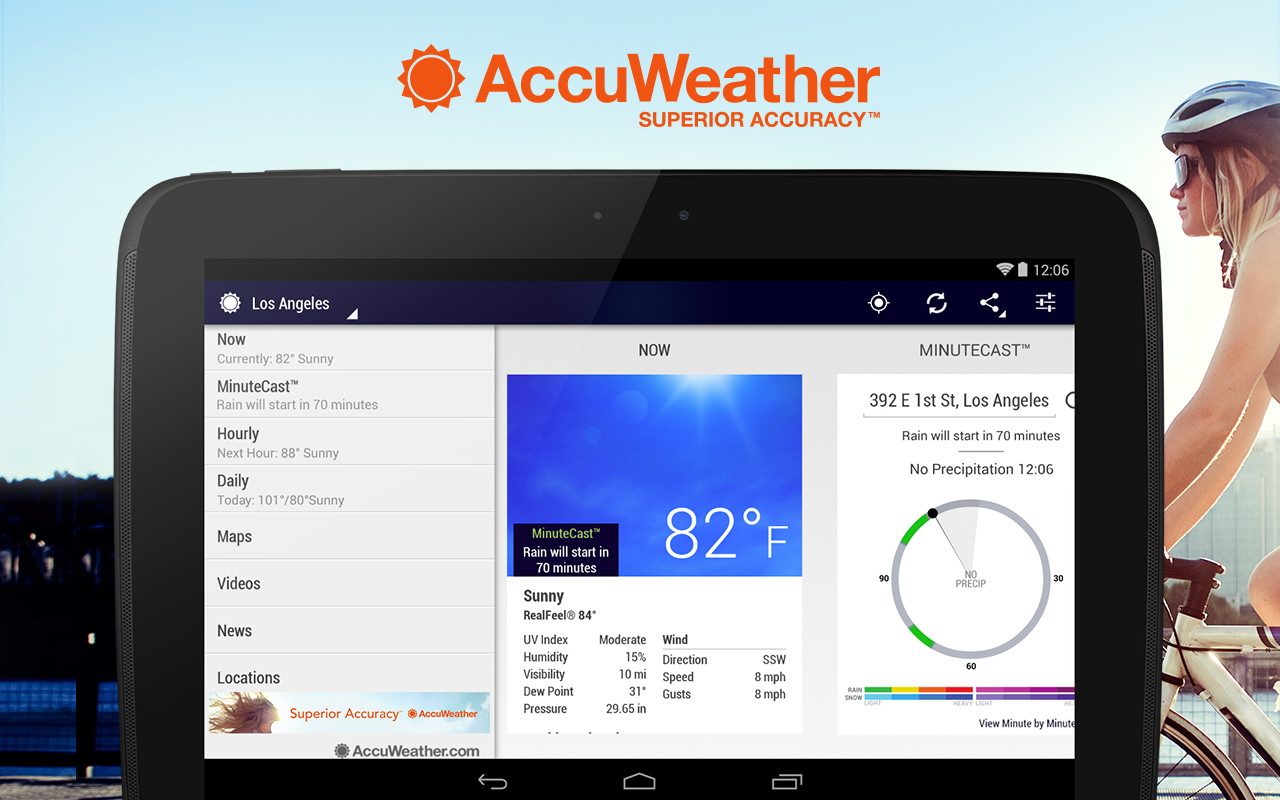 AccuWeather is The app for hyperlocal forecasts that lets you go deeper to locate the data you need. The daily forecasts provided by the app cover the probability of rain, air quality, wind, cloud cover, and UV index. Using live radar, you can monitor temperature changes, snow, ice, and storms.
Meticulous users will like AccuWeather's MinuteCast, which offers minute-by-minute updates on precipitation. A WinterCast function can help you anticipate potential snowfall; a recent update adds a layer for ice forecasts.
Although AccuWeather is available for free download, there are currently some paid tiers. For 99 cents a month, you may get rid of the commercials; for $1.99 a month, Premium Plus adds notifications.
4. WeatherBug
WeatherBug can be helpful if you need to keep track of a shifting weather situation. The free download contains an improved hurricane tracker that can forecast hurricanes in addition to Doppler radar for North America. The other capabilities include Spark lightning notifications, which use GPS data to alert you when lightning strikes are approaching nearby. The app offers data on air quality and pollen counts in addition to the usual selection of meteorological data.
Since it aggregates data from meteorological services, satellites, and monitoring stations, WeatherBug can provide hyperlocal real-time conditions along with current, hourly, and 10-day forecasts. The app's advertisements can be turned off for 99 cents per month or $9.99 annually; a free 24-hour trial of the paid version is also available.
The software is only listed as WeatherBug on the iOS software Store. Users of iOS can also install WeatherBug widgets on their lock screens (if they are running iOS 16). In the Google Play Store, the application is called Weather by WeatherBug.
5. Carrot Weather
Android users can now receive the weather forecast and a hearty snark and sarcasm from the villainous AI dictator Carrot. Carrot Weather, once an iOS-only app that wasn't available on Android, has long since closed the platform gap. iOS users can still benefit from features like adding a Carrot Weather widget to their lock screens and the support for Live Activities in iOS 16.1. However, regular updates for premium users also offer fresh functions and extras like tide data or forecasts for up to five locations.
The program provides daily, hourly, and seven-day projections that are ironically adjusted to make even the grimmest scenario more bearable. Infographics make it simple to retrieve essential information, and as you tap and swipe, more detailed meteorological data becomes available. You can even set the level of political humor that the AI can use by configuring how friendly, caustic, or deadly it is. You can even partake in "bonding activities" with the insane AI, according to recent improvements.
6. IQAir AirVisual Air Quality Forecast
In this era of worsening pollution and deadly wildfires, knowing the air quality is more important than knowing whether it will rain. We value how the IQAir AirVisual Air Quality Forecast app communicates essential details about the air quality locally and worldwide.
The app promises thorough pollutant data. More than 10,000 places across more than 100 nations were included in the air quality index. Choose between a 2D map with colors and a 3D map resembling Google Earth to view the air quality. AirVisual also provides 7-day forecasts to ensure you participate in outdoor activities in a safe atmosphere. If you have an iQAir indoor air quality sensor in your home, you may sync it with the app to get a mobile reading of your indoor air quality.
7. Windy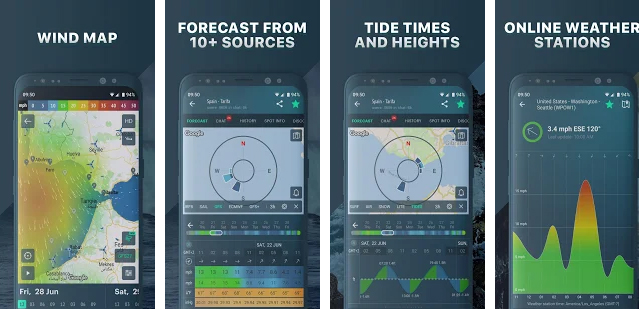 Seeing the current Weather on your phone's screen might be most beneficial. You can witness how the weather forecast changes thanks to Windy's precise maps.
Naturally, Windy excels at predicting wind patterns but offers more than 40 maps that display temperature, humidity, and other information.  You can also get satellite and Doppler data and a helpful hurricane monitoring feature throughout the storm season.
Even though Windy's free app offers many features, a yearly subscription for $18.99 will provide you access to more frequent prediction updates.
8. Weather on the Way
The app's name has fluctuated between Just On the Way and Weather on the Way. Whatever you call it, the basic concept remains the same: Since the Weather may change substantially while you're driving, having that information at your disposal will help ensure a safe trip.
Download Weather on the Way for free to determine if you should prepare for rain, snow, or other potentially dangerous conditions when traveling from Point A to Point B. This software combines notifications for severe Weather with navigational features.
Although the accessible version of Weather on the Way operates fine, the subscription version ($4.99 per month or $24.99 annually) is superior. Users who upgrade to pro status have access to more sophisticated features like recommended detours, enhanced visibility on the road, and extra weather data like precipitation and wind speed. Pro customers can also receive Weather on the Way through CarPlay screens, bringing that information inside their vehicles for safe driving.
9. Yahoo Weather
The outstanding Yahoo Weather app offers a gorgeous, informative, and eye-catching user interface. The app displays images of your neighborhood based on the Weather and time of day. Additionally, you may check out real-time radar, heat, satellite maps, and comprehensive five-day forecasts. To provide a similar user experience across all platforms, the Android app has been modified to match the iOS design.
Other applications offer more information and capabilities, but Yahoo Weather's simple, straightforward layout makes it an exceptionally user-friendly, everyday software. The only drawback is a very sizable ad that appears as you swipe up to see the detailed prediction.
10. NOAA Weather
The NOAA Weather & Tides app receives information from one of the most trustworthy weather sources, the National Oceanic and Atmospheric Administration (NOAA).
The NOAA app may have a less appealing design, but it is packed with vital information, including the current Weather, forecasts for the next few days, and an interactive map. This map shows you the data you need using a variety of layers and layouts. You can track the Weather for numerous regions with it as well. A widget is provided for quick views while traveling.
CONCLUSION:
In conclusion, weather applications have completely changed how we engage with and obtain weather data. They are essential for everyday planning and safety because they offer ease, thorough forecasts, and real-time updates. Users should be conscious of potential downsides such as resource utilization, privacy issues, and sporadic inaccuracy. Weather applications can significantly improve our ability to stay informed and prepared in a constantly changing climate and offer significant benefits when used appropriately.
FAQs:
What is a weather app?
A mobile application known as a "weather app" gives users access to the most recent weather data, including forecasts, present conditions, and associated data.
How do weather prediction apps work?
Weather applications use information from meteorological sources, such as satellites, radar, weather stations, and computer models, to forecast the Weather.
How accurate are weather apps?
Although weather apps aim for accuracy, forecast accuracy might vary. In general, short-term forecasts are more precise than long-term projections.
Can I use a weather app without an internet connection?
Yes, most weather applications need an internet connection to download the most recent weather information and updates. Some might provide a bare-bones offline experience.
Can severe weather alerts be received via weather apps?
Many weather applications provide alerts for dangerous Weather, such as thunderstorms, hurricanes, tornadoes, and other warnings.