What make you think I'd be interested in this?
Are you tired of seeing highlight videos after highlight videos and seeing images on every sports platform? Sports blogs may be for you if you want more in-depth information or read something basic. Many sports blogs cover a wide range of themes from many brilliant writers; sometimes it's political, sometimes it's about an athlete's life outside of the game, sometimes it's about fashion, it's always interesting reading.
What more can you do with sports blogs and articles?
Aside from providing excellent reading material and the fact that reading is a fantastic method to use your brain, you can also obtain additional information not available in films or sports reports. Sports blogs provide more in-depth content and analysis and fair and open exchange of information. Another great reason to read sports blogs is the chance to read blogs written by professional athletes themselves.
Which sports blogs are the best?
Instead of scouring Google for a plethora of unrelated information, I've chosen to make your life easier by compiling a list for you. There are a lot of unique sports blog websites out there, but I think Deadspin is the finest. They've been around for a while and developed a cult following, partly to their excellent writing, but more importantly, their unflinching, unbiased view of sports. "Sports news without access, favor, or discretion," as their slogan states, is 100% accurate.
The Players Tribune is close to Deadspin as the best sports blog. As a voracious reader, I'm used to reading random blogger/sports journalist's blogs and stories, but having the chance to read a personal blog from a professional athlete? For me, that's a game-changer!
With your list of sports blogs and articles, I believe you've won me over!
Hey, reading is beneficial to your health! It enhances your vocabulary while also training your brain. Regular reading not only makes you smarter, but it also increases your brainpower, according to research. Consider it a mental conditioning workout.
1. Deadspin
Will Leitch created Deadspin, a sports blog located in Chicago, in 2005. G/O Media now owns the site, previously owned by Gawker Media and Univision Communications.
Daily previews, recaps, and commentaries of big sports stories, as well as sports-related anecdotes, rumors, and videos, were featured to Deadspin.
2. The Players' Tribune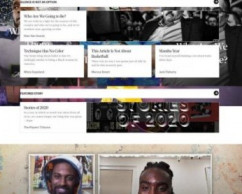 The Players' Tribune is a new media site that publishes first-person tales from professional athletes and hosts daily sports conversations. Derek Jeter, a former professional Major League Baseball player, established the platform in 2014.
3. The Athletic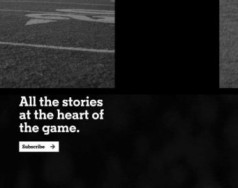 The Athletic is a subscription-based sports website with ad-free national and local coverage in 47 North America and the United Kingdom.
4. The Ringer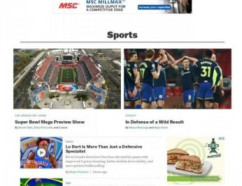 The Ringer is a sports and pop culture website and podcast network created in 2016 by journalist Bill Simmons and is now owned by Spotify.
5. Total Pro Sports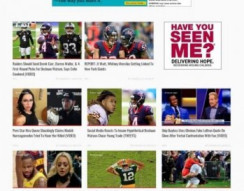 Total Pro Sports is the place to go for surprising, controversial, humorous, strange, and mind-blowing sports information. NFL, NHL, MLB, NBA, MMA, College Football, College Basketball, NASCAR, Fantasy Sports, Sports Betting, and more sports news, videos, and pictures.
6. BlackSportsOnline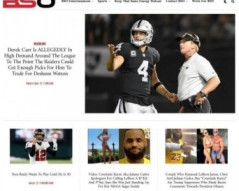 BlackSportsOnline is a website dedicated to the promotion of African-American sports. Denise Garcia, Lonzo Ball's Baby Mama, Threatens to Expose The Big Baller Brand Sophie Scott, the girlfriend of Patriots QB Mac Jones, was almost.
7. The Onion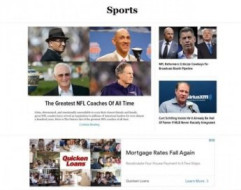 The Onion is a satirical news site and newspaper based in the United States that publishes humorous stories on worldwide, national, and local news. The firm is situated in Chicago, but it began as a weekly print journal in Madison, Wisconsin, on August 29, 1988. Early in 1996, The Onion began publishing online.
8. The Big Lead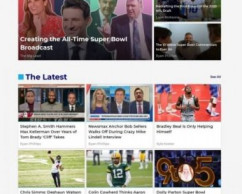 The Big Lead is a sport blog that is run independently. Jason McIntyre and David Lessa, 29, founded the company in February 2006.
9. The Undefeated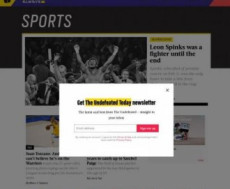 ESPN owns and operates The Undefeated, a sports and pop culture website. The site advertises itself as "the leading platform for examining the interconnections of race, sports, and culture," It was officially launched on May 17, 2016. Kevin Merida, ESPN senior VP, and editor-in-chief, oversees The Undefeated.
10. Barstool Sports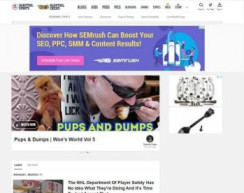 Barstool Sports is a digital media firm specializing in sports and pop culture content. The Chernin Group and Penn National Gaming are the two principal investors in the firm, which David Portnoy founded in Milton, Massachusetts, in 2003. The headquarters of Barstool Sports is now located in New York City.
11. Vice Sports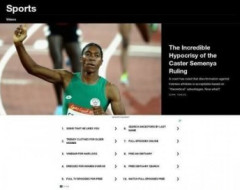 In this VICE Sports exclusive, we meet up with the all-female Lady Dragons step team to see how they're preparing for regionals in New York City.