Season four of the hit Spanish adolescent series Elite premiered on Netflix this past weekend, and fans have been binge-watching the eight new episodes in no time.
After Polo's murder was solved in the third season, the Las Encinas students were forced to deal with four new classmates, while a fresh investigation served as the backdrop for much of the storey.
It all comes to a head in a dramatic conclusion in which the perpetrator is revealed, as well as information about yet another crime, with the lake serving as the site of yet another cover-up.
With multiple loose threads in the drama, including the unresolved mystery of the body in the lake and several romance plotlines, it's no surprise that viewers are already impatient to learn about a fifth season.
Meanwhile, despite the departure of two additional original cast members during the show's current run, Elite has done a wonderful job of introducing new characters to take the place of the popular fan favourites, which has boosted anticipation for the upcoming season.
The good news is that fans won't have to wait indefinitely for answers to their questions, as a fifth season has already been confirmed – the programme was renewed in February.
But when will the Netflix teen drama return? Everything you need to know is right here.
Is Elite set to return for a fifth season?
Yes!Carla Daz (who portrays newcomer Ari) and Georgina Amorós (who plays Cayetana) disclosed the excellent season five renewal status via an Instagram unboxing back in February.
The good news is that fresh episodes are already in the works, so we shouldn't have to wait more than a year between seasons this time.
When will the 5th season of Elite be released?
While we know that development on season five is already beginning, there is still no release date set — other than the fact that it will reportedly air in 2022.
The time between the second and third instalments was less than a year, so there's a potential this will happen again, with a release date in early 2022 being a possibility.
Meanwhile, keep an eye on the show's official Instagram page for entertaining behind-the-scenes content from both new and returning cast members. Any news about a release date will be posted on this page.
Elite cast for season 5: Who is returning?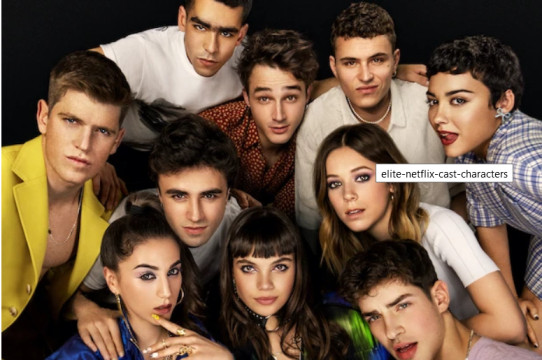 Ander (Arón Piper) and Guzmán (Miguel Bernardeau), who left at the end of season four, are the two key cast members that may not return.
However, the Elite Shorts series is one possible avenue for these characters to appear, and these teenagers enjoy sending voice messages and video chats to one another.
While it hasn't been confirmed, the following members of the Elite cast are expected to return.
Samuel (aka Samu), a Las Encinas scholarship student and one of the remaining original cast members, is played by Itzan Escamilla.

Will his relationship with Ari flourish now that Guzmán is gone?

Omar Ayuso, another original cast member and Las Encinas scholarship student, plays Omar.

Ander, his boyfriend, left at the end of season four, and the two agreed to pursue new relationships while they were apart.

Claudia Salas plays Rebeka (aka Rebe), a student who knows where the body is hidden and must keep this information hidden.

Cayetan, a janitor at Las Encinas who aspires to be a fashion designer, is played by Georgina Amorós.

Carla Daz plays Ari, who barely made it through her first term at Las Encinas after being the victim of a horrific assault.

When Ari's hot-headed twin, Manu Rios, doesn't get what he wants, he'll have to learn how to control his emotions.

Martina Cariddi plays Menca, the youngest sibling who will almost certainly suffer repercussions for the blackmail that nearly killed her sister.

Diego Martn plays Benjamn, the principal of Las Encinas and the father of Menca, Ari, and Patrick.
Elite season 5 spoilers: What will happen next?
In February, two more cast members were introduced!
Valentina Zenere, an Argentinian actress, and André Lamoglia, a Brazilian actor, have joined the Elite squad and will undoubtedly add to the drama.
Otherwise, the body at the lake's bottom, which is now being held in place by ropes and rocks, will undoubtedly pose problems.
Armando's background is sparse, except from the fact that he was a Las Encinas student two decades ago and that he is wealthy and powerful.
Someone will undoubtedly come looking for him, and Rebe and Samu will have to remain silent.
No other drama has as many heated and heavy entanglements as this one, and while some couples may appear more solid in the aftermath, something (or rather someone) will undoubtedly cause strife.
At this high school, love triangles thrive, and the new pupils will undoubtedly generate some conflict!