Drawing apps are only one of the many modern things that have gone digital. They offer hassle-free digital art creation that is simple and economical. You don't have to keep track of paints and brushes or be concerned about annoying paper cuts from an obstinate paper canvas. Instead, you have a blank canvas waiting for your next creative endeavor.
We've compiled the top iPad drawing apps so you may express your creativity with any iPad model before you create your next masterpiece.
What is a Drawing App?
A drawing app is an example of an app that enables you to use your iPad to produce art. By providing a variety of various brushes and brushstrokes, along with other tools to help you create your next masterpiece, the program enables you to generate vector graphics.
How did we select these drawing applications for the iPad?
We consider several aspects when looking for the top iPad sketching applications.
Compatibility:
Compatibility is a crucial consideration considering that we are just looking at the top sketching apps for iPad.
Features:
We examine the features a drawing program offers, including the sorts of brushes, the number of brushes, the kinds of images you may make, and the formats supported for storing.
Cost:
We hunt for the most cost-effective drawing apps for the iPad to help you stay within your budget and obtain the app you want without breaking the bank.
Ratings:
Because users are the best experts on an app, we read thousands of actual customer reviews to understand user experience better.
Top 10 iPad Drawing Apps:
1. Autodesk Sketchbook:

Despite being free, the Autodesk Sketchbook app is remarkably full of artistic resources that aren't restricted by paywalls. After seven days of free use, you'll be prompted to create an Autodesk ID, which is also cost-free. When you're getting started with digital art, it's less intimidating than Procreate. The sketch app provides brief instructions on where all the fundamental tools are when you first download it.
With its customizable brushes, Autodesk offers a sizable, well-organized brush library that simplifies changing settings like brush size, opacity, and pressure. The toolbar is relatively simple to understand, even with the standard learning curve of a new drawing program. I particularly appreciated that the app maintained its "drawing" vibe by allowing you to see the pixels in your stroke even when you were considerably zoomed in.
The emphasis on making the switch from paper to screen seamless is one of my favorite aspects of Sketchbook. With Autodesk, you don't have to redo any creative sketches you've already created in a notebook. You may import your work because your camera also functions as a scanner. The background of the imported image is translucent, allowing you to start using the program immediately.
2. Lake:

Not every artwork you produce with art software needs to be a labor-intensive project that yields a masterpiece. The most crucial element is to enjoy yourself. An afternoon of creativity and relaxation can be had by just coloring. Free ASMR coloring book pages from artists worldwide are available in Lake, an ASMR art app.
The music component of the app is quite extraordinary. For instance, you will hear quiet brush sounds if you use the paintbrush when digitally painting. If you select the spray paint tool, a ball bearing will ratchet like a paint can if you shake it. The ASMR feature can be disabled in settings.
The opportunity to stay within the lines while incorporating more color for shading and effects was something else I enjoyed. It allows you to be more creative than just tapping and filling (though you can do that if you want). Additionally, if you need clarification on the colors, the creator of each coloring page creates an optional palette for you to use.
You can choose from the free daily images on the app's dashboard or browse All Art in the toolbar. For ease of use, mandalas for relaxation, satisfying symmetry, and kid-friendly coloring sheets are grouped by Lake.
3. Procreate: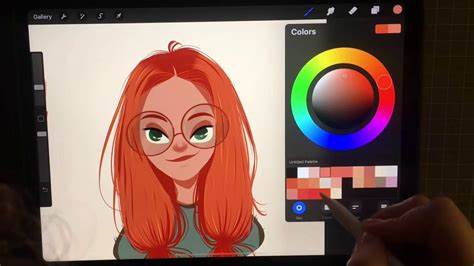 Procreate is, without a doubt, one of the top drawing apps for the iPad. There are hundreds of brushes available that you can all use with 64-bit color for your new super high-definition canvas. They are all designed to function with your own iPad and Apple Pencil. You can produce various artistic mediums, including sketches, paintings, illustrations, and animations. For consistently accurate shapes, the remarkable tools have a QuickShape option.
Moreover, a smudge tool and options for 3D metallic and painting roughness exist. Painting enthusiasts will enjoy 3D Painting with Lighting Studio and Animated Export. Additionally, you gain access to the lightning-quick Valkyrie graphics engine for enhanced performance.
4. Assembly:

Using assembly is an excellent idea for both vector art and sketchbooks. The ability to produce a range of various artwork, such as logos, icons, and illustrations, will excite professionals of all stripes. Utilize robust features and tools to layer your designs and organize your visuals into groups. Also, using the complete text engine, you can import other fonts or select from a selection of 25. Two hundred fifty completed stickers, 35 pre-made color palettes, and 21 themed shape packs with more than 1,000 shapes are also benefits. Industry-standard bezier curves are used in the powerful point editing system for improved efficiency. When you're done, you can use desktop programs to import and export files in your preferred formats, including JPG, PNG, SVP, and PDF.
5. Concepts:

Refrain from assuming that just because Concepts is the most excellent inexpensive drawing app for the iPad, it is lacking in features. The program may be used in various ways, whether you want to sketch, doodle, or create mind maps. You may create design plans and storyboards. The endless canvas can also be used as a whiteboard to brainstorm ideas for your upcoming project. Some of today's top businesses, including Disney, Philips, Apple, Playstation, and Google, use this program for all of its capabilities. Numerous pens, pencils, and brushes are available, and you can make your own if you prefer a particular velocity, pressure, or tilt. The COPIC color wheel is used for coloring, but you may also upload photos and PDF files to give your material some flair. Open via AirPlay when finished for simple sharing.
6. SnowCanoe: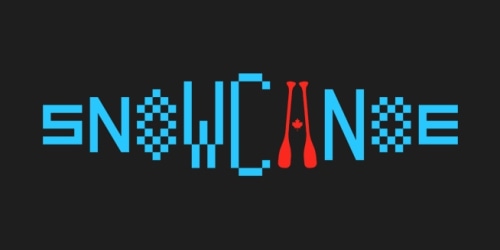 SnowCanoe Inspire Pro for iPad can be a terrific platform if you want to be inspired. With its quick and lifelike drawing, painting, and sketching experience, snowCanoe Inspire Pro makes it easy to get creative. Without needing a manual, the platform enables artists to create engaging and user-friendly work employing fascinating features and countless hours.
The tool is simple to learn with no difficulties influencing the art's quality. With its premium paint brushes and strokes to add soft blur and graze the canvas generating new designs, it is simple to go to the next level. With brushstrokes moving at 120 frames per second, the ultra-fast rendering maintains 30 frames per second.
Users of Inspire Pro can save artworks to their galleries, give them catchy titles, record playback videos, and scroll through the thumbnails. Choosing a canvas size or customizing it allows artists to import images from various sources, scale, rotate, and position them on the canvas.
7. Linea Sketch: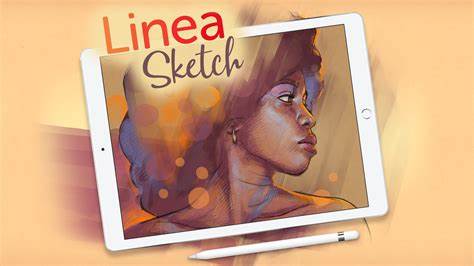 You may get better results using Linea Sketch, which enables control to draw quickly and provides a balance with digital art. Artists can choose from many pre-defined colors, generate hues or tints, employ a streamlined set of flayers, and start with a supercharged sketchbook thanks to its premium features.
Artists can modify, combine, and rearrange designs with Linea Sketch to achieve project flexibility. It is simple to design shapes and alter the final positions as needed without requiring stencils or rulers because it operates according to ZipShade guidelines. To change layers, artists can resize, reuse, and move the artwork.
Artists can naturally add artistic strokes, basic textures, and textured splats to the sketches or canvas. Adding labels and text to the artwork is simple by selecting from various fonts, font sizes, color schemes, and alignment options. It can also capture the creative process if you wish to post it on social networking platforms.
8. WeTransfer Paper:

Think beyond the box and start producing excellent designs right away. WeTransfer Paper makes this feasible by polishing the ideas with a natural-looking swipe, tap, and pinch motions. Together with realistic journals, the 3D interactions give consumers a top-notch experience.
One of the best sketching apps for the iPad, WeTransfer Paper, works with natural expressions that may maintain finely calibrated design to write, sketch, draw, and paint ideas. It provides techniques and pointers for producing illustrations that can launch your career. It creates a fresh image on the blank pages without using complicated layers to spark creativity.
With the gadget, artists can write, sketch, draw, and paint their thoughts on paper. It can include everything, including moodboards and storyboards, to spark creativity. Pages can be set up with journal capabilities to record thoughts as they come to them.
9. Astropad Studio:

Start with an Astropad Studio, which gives full customization features, and a professional drawing tablet. Astropad Studio's fully adjustable touch motions and tool switching enable artists to adapt quickly to their workflow.
Additionally, it provides pre-app shortcuts, employs elements for each stroke, uses personalized pressure curves to account for drawing style, and has slick designs. Before choosing the paid version, the artists can use the free 30-day trials. The tool's modular design enables artists to customize their workspace and add features to get desired results.
To draw directly in the tool, open the app, connect your computer and tablet through USB and Wi-Fi, then mirror your desktop to your tablet. Retina resolution and color-corrected output are provided by LIQUID technology, which also provides responsiveness and quality to the image. It offers 60 frames per second, GPU, velocity control, and infinite updates.
10. ArtRage Vitae:

Drawing realistic drawings is feasible with ArtRage Vitae's realistic painting program. It is jam-packed with oil paints on textured canvas, pastels or pencils on realistic paper, and watercolor blends on a fine gradient. The digital utilities are perfect for adults and children and contain blend modes, layers, references, instruction, and Preset tools.
ArtRage Vitae supports the Apple Pencil and Samsung S-expressive Pen's capabilities. Larger canvases, tools, a new cloner, color blending, layers, variations, airbrushes, special effect tools, utility tools, and many other features are included. To achieve the best results, it is possible to save settings as personalized presets, add texture, layer effects, and color blending, and employ a digital brush.
How is iPad Pro better than pen and paper?
After finishing my first picture book with illustrations, Create a Face. I bought an iPad Pro. All my drawings were done on paper with crayons and markers. In addition, I like experimenting with the textures and feels of conventional tools. My issue was the pressure of using traditional media for commissioned work. I was under tremendous pressure to complete a drawing precisely the first time. Also, the entire procedure took a very long period. Each drawing had to be scanned before being digitally cleaned up in Photoshop, which was tedious. I needed a quicker choice that would also make me feel secure.